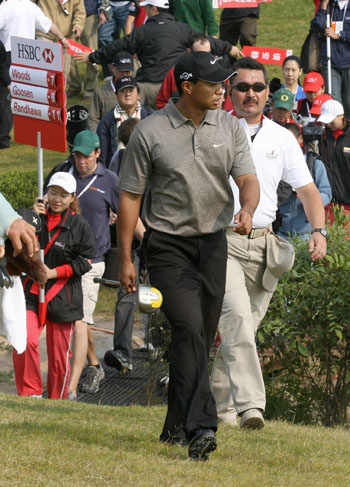 First off, we're not bodyguards. I hate the term – we're not thick-necked gorillas and we don't drag our knuckles on the floor, which is what everyone seems to assume when they hear the word. We are protection specialists and we handle executive and VIP security. It has nothing to do with fighting. Simply put, if you're fighting then you're not protecting the client, which is what we're all about. In the past, people have applied for positions with us because they might happen to have a black belt in karate. That might be useful, but the job is much more about being observant and having a keen eye for detail. Of course, having the ability to subdue people who are a potential threat is important (and all our guys are more than capable of doing so), but quite frankly our number one priority is to remove the client and ourselves from any danger.
We were brought in by IMG, the event organizers, in 2005, the second year of the tournament. Although I'm a golfer myself, we'd never worked at a golf event before and, during the course of our research, it was interesting to see how protection is handled elsewhere in the world. On the PGA Tour, for instance, they tend to hire police guys in uniform, which might sound okay, but they're really not specialists. In a lot of the video footage we've looked at, it was clear that many of these guys were more interested in watching the play and not watching the crowd. Seeing where the potential threat comes from is obviously crucial. I truly love golf but even when I'm walking eighteen holes with Tiger I don't actually see him hit many shots. I'm constantly watching the galleries. You'd think I had the best seat in the house, but that's really not the case.
Golf courses are difficult places to secure and so a lot of our work is spent in preparation. We arrive on the Sunday before the tournament gets underway and spend a day and a half driving around the course looking for 'choke points' – places where the spectators tend to converge – and evacuation routes. We need two evacuation routes on each hole in case of a threat or medical emergency. At Sheshan, host venue of the HSBC Champions, this often means our quickest escape is through the bushes and into the gardens of the expensive homes they have there. People don't tend to associate sporting events with danger, but Tiger is seen as much more than just a sportsman. He really is a major celebrity and our main concern is the possibility that an obsessed psycho might want to cause him harm. It's credible – look what happened to John Lennon, after all. At the HSBC we don't have to worry too much about white supremacist groups or anything like that, but it's relatively easy to get hold of guns on the mainland, so we have to be prepared for any circumstance. Also, many of the fans who turn up to watch golf events aren't really golf fans; they're celebrity watchers and they can to be quite rough and pushy when it comes to getting autographs.
Pages
Click here to see the published article.