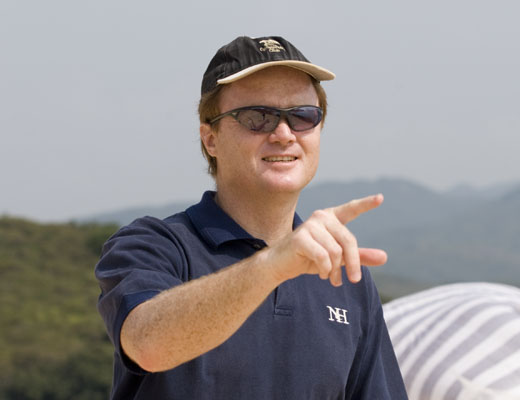 What are your biggest design influences?
As an Australian I was influenced early by the works of Dr Alistair McKenzie: his works at Royal Melbourne and Kingston Heath being the first classic courses I had the opportunity to play. Other classic architects whose work I admire and whose courses I have played include A.W. Tillinghast [designer of San Francisco Golf Club] and George Thomas [designer of Riviera Country Club]. In terms of modern architects I owe a lot to both Robin [Nelson] and Neil [Haworth] who after all gave me the opportunity to work in this field. Both have been a big support and both are brilliant in their own way.
I have travelled several times to Ireland and Scotland and the short, quirky and original links courses there always energize and influence my designs when I return. Courses like Carne, Machrihanish, Portrush and the more traditional links of St Andrews and Royal Dornoch all break the conventional rules of modern design, yet all work and have delighted and entertained golfers for centuries. I feel modern design has lost part of this unpredictability, which is a real shame. I am not sure if this is as a result of our ability nowadays to shape every inch of land on a site or our clients' desires for conformity. But the result is that some of the wildness of the game in its raw form has been lost.
Who are you designing courses for, and has that philosophy changed over the years?
I have pretty much always designed for myself – and luckily my game fits the profile of the average player fairly well. While I have played at a decent single handicap level at one time or another, for most of my playing years my handicap has hovered in the early teens.
I generally always try and design for the miss in golf, which is pretty much most shots for most people when you think about it. I want to reward good and aggressive shot making that challenges hazards but also allow people to miss their shot – in the right place of course. The up and down might be difficult but at least it allow peoples to find and play their golf balls.
When I was younger, and a bit of a better player, I was probably less sympathetic towards the beginner and I think my philosophy towards them has mellowed. One reason I don't like island greens is that they are just not that hard for a good player but almost impossible for the hacker. I try and give the poorer player a chance to get his ball to the hole, assuming he plays within his skill levels. I will admit that this philosophy is not apparent at the East Course at Kau Sai Chau – with the topography and restrictions involved, we could just not avoid the forced carries.
Talking of Kau Sai Chau, what were your first impressions of the site?
We saw the site as a tremendous opportunity – there was amazing topography there coupled with out-of-this-world views, but we could also see the tremendous challenges posed by the severe terrain, the rock and the need to work around the routing of the existing courses.
The land that we felt could be used relatively easily was apparent right away – the ridgelines where hole 4 and 14 sit for instance. However, many of the other holes took a great deal of investigation and planning to find. Figuring out how to link the distant parts of the site with each other while providing a coherent golfing experience was difficult. For instance, the tough par-3 8th hole provided a linkage between two distant parts of the site, as did the 3rd, despite there being very little useable land in these locations.
How did the project rank in terms of difficulty?
The project was one of the most difficult we have been involved from both a technical and regulatory viewpoint. The routing itself was not the main difficulty, but there was some very difficult land to traverse. The requirement to keep the existing courses in their entirety also complicated the routing process somewhat.
The construction of the works, however, was very difficult. Not only was the contract lump sum, which makes field changes difficult to implement, but the nature of the site was mainly rock with a thin layer of topsoil. This coupled with the need to save much of the existing vegetation made for a very difficult and complicated construction process – a process not helped by the fact the project is on an island with limited means of access.
How did Hong Kong's strict environmental rules and regulations impact upon the project?
The environmental standards imposed significantly drove up the costs of constructing a new course in Hong Kong and they will perhaps limit opportunities to develop new golf courses here. If all countries enacted or followed the restrictions imposed upon the course at Kau Sai Chau I think you could safely say that would be the end of new golf courses. Some of the environmental restrictions applied at Kau Sai Chau were, in my opinion, a little harsh, especially considering the site had been bombed heavily during its days as a target range by the British military.
Golf is, however, seen as a "bogeyman" and an easy target by the environmental lobby given its elitist image, based mainly on supposition and rumor. Very little by way of hard data supports the notion that the environment is at risk from golf, although of course some golf courses, like any other type of development, have been constructed or maintained in a less than environmentally friendly manner. Designed, built and managed responsibly we believe golf courses can be positive developments, providing both recreational opportunities and green space for the wider community in an economically sustainable manner.
In China and elsewhere in Asia, concern for the environment is increasing and we support this generally. Adherence to quality control during construction and management does mean both a better golf course and better environment at the end of the day. Construction by poorly managed or supervised contractors for dubious owners on sensitive sites are not the way forward for an industry if it wants to be around long term.
What's your favourite hole on the East Course?
Holes four and five are favorites and I also like how hole 16 turned out, considering the changes that were foisted upon the hole by environmental restrictions just prior to construction. I am also a big fan of short par 4s – and like to design them whenever my clients allow me – so hole 12 is also another favourite. During construction we located a wonderful tee location right on the edge of the ocean that would have made the 12th one the most dramatic on the golf course. But unfortunately due to contract limitations and cost difficulties we were unable to implement this improvement. I am still hoping that, at some stage in the future, we can sneak an extra back tee in here since it will make such a positive change.
Pages
Click here to see the published article.