This year marks the 150th anniversary of the Open Championship. Are you expecting this to be the highlight of your tenure so far?
I'd rather answer that afterwards [laughs], but every Open Championship is a highlight for me. I wouldn't want to pick one out but the 150th edition is obviously going to be very poignant. We'll be running our four-hole past champions' event as we did in 2000, which is going to be wonderful. We have 32 living champions and we're hoping for a big turnout. There have already had a lot of acceptances, so the fans can look forward to that. St Andrews itself makes it a special Open.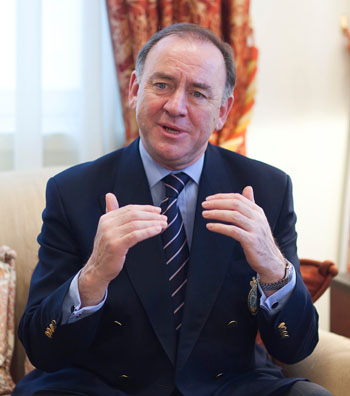 Presumably Tiger will be back in the field…
His return is very good for golf. I hope his personal situation has settled down and it's great to have him back. St Andrews is a course he loves and I'm sure he'll be with us in July. We're looking forward to seeing him.
Can you explain the reasoning for installing the new tee on the famous seventeenth on the Old Course, which adds approximately 40 yards to the hole?
The new tee is straight back on the same line as the existing tee, so it's just longer. The hole has never been lengthened. At The Open in 1900 the hole played the same length as it did in 2005. But the way the hole plays has changed completely over the years. We're basically trying to get a longer second shot into the hole. We want the professionals to be hitting a less lofted club, which is more likely to bring the traditional hazards – the road bunker and particularly the road at the back – more into play than we have seen in recent times. We see a lot of professional golf at the Old Course – The Open every five years and the annual Dunhill Links – so we're very conversant on how the pros play the seventeenth. What we've been seeing is that they can get in position off the tee with less than a driver or they have a relatively lofted second shot. When they have a seven-iron in their hands they're very good with distance control. They're not so good with a two- or three-iron.
The new tee hasn't been put in play yet but have the players voiced any opinion?
That's right; the new tee will be in play for the first time at The Open. At the Dunhill we took some of the players and showed them the new location and explained our reasoning. Their reaction was positive.
You played to a very good standard when you were at Cambridge and made it onto their university team. Do you play much these days, and if so, what's your handicap?
Oh gosh, that was a very long time ago [laughs]. Never take a job in golf if you want to play. I play when I can and I still love it. But frustratingly, it's not enough. I think my handicap has technically lapsed, but if I can get a week's golf in I probably play to about a three, which is what I masquerade off.
Do you have a favourite Open Championship, either before or during your reign as chief executive?
The one I remember the most as a kid was [Royal] Lytham [& St Annes] in 1969 when Tony Jacklin won. It had been so long since a British player had won the championship that I confess to having a tear in my eye at that one. I remember it very well. During my time, which is since 2000, the first one would take a lot of beating. Tiger Woods was at his dominant best and we had the four-hole past champions' event. But all the Opens are marvelous, so I hope that's not ducking the question because it's genuinely true.
What's your personal best on the Old Course?
Funnily enough it was the first time I played it, which is what they say about the Old Course. If you don't know where the trouble is you can get round it quite well. And I did get it round in just under 70.
Is the Old Course your favourite of The Open courses?
The Old Course has an atmosphere like no other – coming back into the town at St Andrews is very special. But I do love them all. Muirfield is a very fair course, Carnoustie is the toughest, I think. Lytham is perhaps in some ways the most subtle. But they're all great courses.
Can we look forward to seeing a British winner of The Open this year?
We're seeing European golfers coming through very strongly recently; the English players in particular are creeping up the world rankings. I don't know what Tiger's been playing like, but he will probably be the man to beat as usual. But there are so many good golfers from all parts of the world that picking a winner is a much harder occupation than it used to be. –As told to Alex Jenkins
Click here to see the published article.