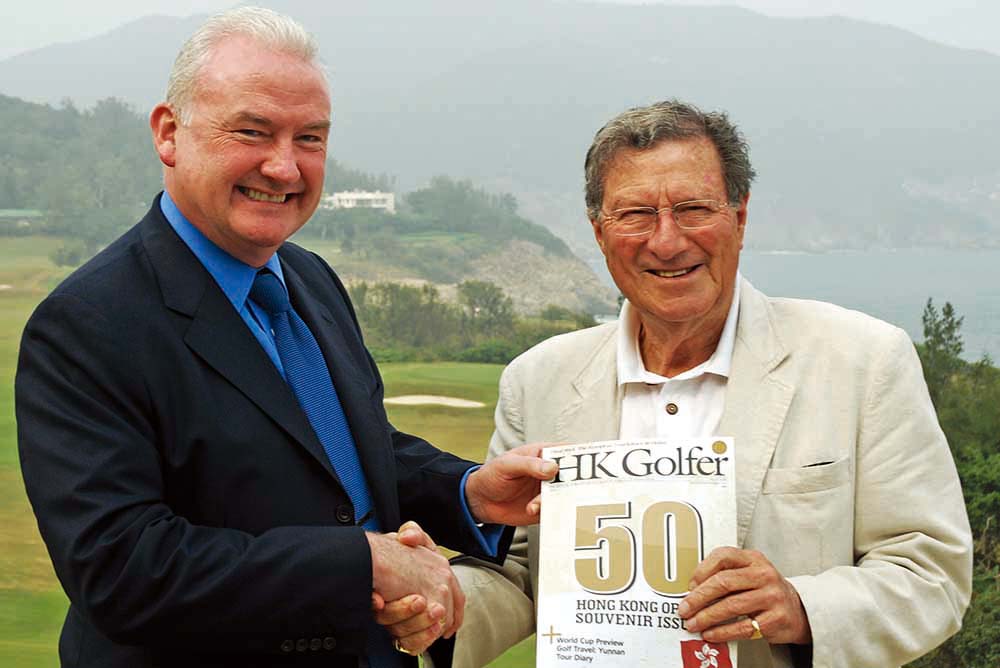 Thomson, who was the first Australian to win the Open Championship at age 24 and won 84 professional events, returned to the city in 2008 to celebrate the 50th edition of HK Open. HK Golfer's Alex Jenkins had an interview with the Hall of Fame golfer at Shek O Country Club. Below are some of his forthright opinions on various topics.
ON LINKS GOLF:
"Golf, like sailing, needs wind," says the man who, in 1965, bested a field which included Nicklaus, Palmer and Player to lift the Claret Jug for the fifth time. "What I don't really like about the courses the professionals play today is that they're all the same. You can play one week in America and the next in China, and the conditions are the same. It's the same type of grass, and they play the same way - too soft. There's no challenge in that. Links courses, if prepared properly, are firm and bare and the wind is normally a factor. It's the purest form of the game there is."
ON MODERN GOLF BALL TECHNOLOGY:
"A lot of skill has been taken out of the game because of the ball and the sheer number of dimples it has now. It isn't affected by the wind as much, it flies so far, and it's easy to spin, which makes the short game a bit one dimensional. You don't often see players running shots up to the flag anymore. Royal Melbourne is the best course we have in Australia, but it's almost defenceless nowadays. Limit the number of dimples, and you solve the problem. But having said that, it's hard to argue with the results. The best player is still winning."
ON SLOW PLAY AND THE LACK OF KNOWLEDGE SURROUNDING THE RULES:
"We used to take three hours and 15 minutes when playing in three balls," he remembers. "[Bobby] Locke was accused of being a slow player, but he would take three hours and 20 minutes. Now a player doesn't even have to know the rules because they're encouraged to call in rules officials at every turn. We never got into tangles; the players used to watch each other. Rule 6.7, which governs undue delay, should be paramount. If a player says 'I want a ruling because I don't know what to do' then 15 minutes passes before it's sorted out and he plays his shot. If that isn't slow play, I don't know what is."
ON THE IMPORTANCE OF RHYTHM:
"[Sam] Snead was the best. I used to love watching him play. He was incredibly fit, too. People talk about how fit Tiger Woods is, but Snead was just as fit and incredibly flexible as well."
Thomson scored his first victory as a pro in 1950 when he captured the first of his nine New Zealand Open championships. He was among four golfers with five British Open triumphs, and a total exceeded only by Harry Vardon's six.
His only victory on the regular PGA Tour came in 1956 at the Texas International Open. He was fourth in the 1956 U.S. Open and fifth in the 1957 Masters. He never played in the U.S. PGA Championship.
Thomson had largely forsaken competitive golf by the late 1970s in favour of designing courses and making a foray into politics. He narrowly lost a bid for a seat in the Victoria State Parliament in Australia in 1982.
However, America's Senior Tour (now the Champions Tour), which began play in 1980, provided a new and lucrative challenge. Thomson won the U.S. PGA Seniors Championship in 1984. His nine senior victories in 1985, a single-season mark matched only by Hale Irwin 12 years later, put him atop the year's earnings list with $386,000 in prize money, a record at the time.
Thomson was the nonplaying captain of the international team that defeated the United States in the 1998 Presidents Cup at the Royal Melbourne Golf Club, and he was captain in its losing efforts in 1996 and 2000. He was president of the Australian P.G.A. from 1962 to 1994 and was inducted into the World Golf Hall of Fame in 1988.
In his later years, he concentrated on international golf course design as a director of Thomson, Perrett & Lobb (now Thomson Perrett).
Pages