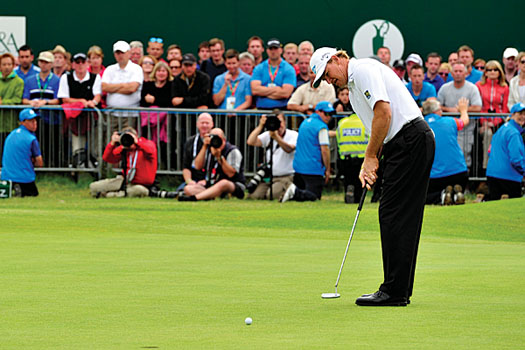 When the R&A and the USGA announced before Christmas that they were planning to ban the anchoring of putters from January 2016, not too many of the long-putter men were as philosophical as Ernie Els.
Long before he wielded his belly-putter to such telling effect at last year's Open Championship, the South African knew that he and his club were never going to be partners for life. Instead, he saw the union as little more than a brief fling. As he declared last year, "For as long as it's legal, I'll keep cheating with the best of them."
Els, after he had read the Christmas announcement, took officialdom up on their somewhat late-in-the-day offer to listen to the views of anyone who cared to voice them. He made a call to St Andrews and afterwards issued a statement of his own: "I have now discussed things with Peter Dawson [the CEO of the R&A] and while I am not altogether in favour of the proposed ruling, I fully respect the R&A's decision."
It was at last November's HSBC Championship across the border at Mission Hills that the long-putter brigade were advised of what the game's governing bodies had in mind. Keegan Bradley, for one, spoke in terms of legal action. "I'm going to do whatever I have to do to protect myself and other players on tour," he warned. "I hear the USGA and R&A have talked to a lot of players already. Well, they've never talked to me. They should ask for our side of the story before they make any drastic decision which I think they already have."
Pages
Click here to see the published article.