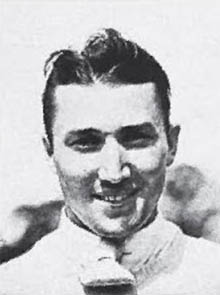 Orlando, Florida, May 1942: The deeply tanned tour pro rapped his three-foot putt towards the 18th hole, only to watch it spin around the cup and finish on the lip facing him. It wasn't the first putt he had missed that day, and his playing partners looked in every direction but towards the broad shouldered man who was now bent over, shaking with anger and glaring malevolently at the putter in his hands. Suddenly he stood up and walked off in the direction of the car park behind the green. The other players watched disbelievingly as Ky Laffoon opened the trunk of his car, removed a pistol and proceeded to shoot his putter three times, shouting: "Take that you son-of-a-b—! That's the last time you three-putt on me!".
This now legendary act of "club- icide" would be enough to mark out Ky Laffoon as a definite character but it was just another chapter in the colourful life of one of the early US professional tour's top players.
A club professional from the age of 16, Ky Laffoon was a prodigious talent who drifted in his teens looking for his big break, even flirting with a Hollywood film career at one point.
As caddie to legendary hustler Titanic Thompson in the late 1920s, Laffoon became a central part of the great man's most famous trick. Thompson would beat all comers, shake his head, then indicate his scruffy club-bearer, and tell them, "Hell, even my caddie could beat you; double or quits?" Ky would proceed to double the winnings.
Pages