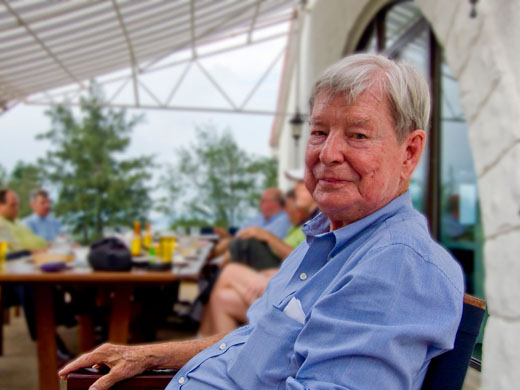 With good reason. Jock's career was flourishing. Soon after returning from Scotland, Jock approached the late Sir Douglas Clague, Chairman of Hutchison, with the idea of acquiring a small trading company, Robertson, Wilson & Company, and came out as managing director and owner of 15 percent of the equity. This was the start of a hugely successful friendship with Clague, one that led to Jock becoming chief executive of A.S. Watson, Hutchison's largest subsidiary, in 1970.
Although Jock continued to play fine golf – collecting a slew of titles at both Fanling and Shek O during the mid-late 60s, as well as representing Hong Kong in the World Team Championship (The Eisenhower Trophy) on three occasions – it was his business acumen off the course that was starting to make local headlines. During his time heading up A.S. Watson, Jock established the ParknShop supermarket chain and took Watsons into the retail sector. Both enterprises, as anyone in Hong Kong will know, are thriving to this day.
Returning to Robertson, Wilson & Company in 1976, this time as regional group chairman, Jock rekindled his association with golf equipment distribution by acquiring the rights to the Footjoy and Hogan brands, among many others. Indeed, it was through this association with the latter that Jock was able to play 18 holes with the legendary founder of the company, Ben Hogan. "He was an incredibly serious man," says Jock of the nine-time Major champion. "When the golf started, the conversation dried up. But he was kind enough to give me one of his sand wedges, which is still in my bag to this day."
Jock continued playing to an extremely high standard until his 60s when, he says, his rugby days caught up with him. Hip trouble forced a reluctant Jock to put time on his amateur golf career, but his connections with the game on a local level didn't end there. In 1980 he acted as non-playing captain for the Hong Kong World Amateur Team Championship and he would later go on to become president of the Hong Kong Golf Association. He was also successful in pushing through Hong Kong's bid to host both the Eisenhower and Espirito Santo events in Hong Kong in 1984.
Even now, Jock, a proud family man who is expecting his first great grandchild later this year, refuses to wind down his business commitments, and devotes much of his time to JDM Associates, a consultancy he set up in the mid-1980s to advise international companies on opportunities in Asia.
He is, in golfing terms at the very least, a true Hong Kong legend.
Pages
Click here to see the published article.