HKG: You've been living here on and off for a while now. Have your impressions of Hong Kong changed during that time?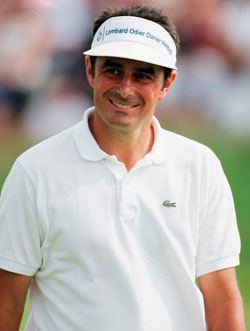 JVDV: I love Hong Kong. I'm really looking forward to becoming a resident here, to getting my ID card. Hong Kong is an exiting city—I love the buzz of the place. When I arrived in 2005, it was much more different than anything I had ever experienced. You go out to Central at midday and it's so noisy, so crowded. They say that New York is the city that never sleeps, but what about here? The service is great—very courteous and very friendly. It makes you feel good. For a European Tour player at the beginning of the year, you couldn't dream of a better place to be based. I live on Hong Kong Island and I just go down to the Airport Express. It's unbelievable. In 30 minutes you're passing immigration. Compared to London or Paris...well, it's just so convenient.
HKG: When you're here you practice at The Hong Kong Golf Club. What do you make of the place?
JVDV: I'm lucky to know Iain Roberts. He has made me feel very welcome, made me feel like I belong here. I'm not a member, but his door is always open. It's a wonderful place, a wonderful community and it has a wonderful atmosphere. It's a great old club. It's also a tough track. There are only two par-fives [on the Composite Course]. You have to focus on the par-threes and par- fours, which is a lot different than other courses. You have to be on your game to score well there.
HKG: Judging by your record, you seem to perform better on tougher courses. Is there any reason for that?
JVDV: To play well on a difficult golf course...you need to be in a different frame of mind. I don't like to see 25-under-par winning tournaments. I once shot 21-under in Switzerland to finish third, so it's not as if I can't do it. I just don't like it. I like a struggle. I like a different mental challenge. Faldo excelled at this. Sometimes you have to accept that par is a great score, which is what I like.
HKG: You've played in the Masters and played well. How tough is Augusta?
JVDV: I played it in 2000 and finished nineteenth. It's a hell of a course. They've made a few changes, but I played off pretty much the same tees as they did this year. It's the kind of place that you have to know where to miss your shot. I like this kind of golf. I don't like to see players standing on the tee and ripping it miles and not worrying about where the ball ends up. I don't see the interest.
HKG: Do you have favourite course?
JVDV: There are a few courses I especially like playing. Wentworth is one, Le Golf National in Paris is another. And of course I love links golf. I just like it when it's tough.
HKG: You played in the States for two years. Everyone says how close-knit and sociable the European Tour is—but how did you find playing on the other side of the Atlantic?
JVDV: If you're based in Europe, you can be back home with your family every Sunday night. You can have dinner with them, you can put your children to bed. When I went to play in America it was a dream fulfilled. It wasn't easy being away from my two girls (Alexandra and Anne Sophie, Van de Velde's daughters from his first marriage), but I made a lot of friends. It's different over there—the players don't seem to be mixing so much as in Europe but that's because many of them travel with their families. I made a lot of friends: David Frost, Billy Andrade, Tommy Armour III, Fuzzy Zoeller—those kind of guys. They were a lot of fun and the galleries liked me over there.
HKG: How are you playing right now?
JVDV: Not good. I haven't played well for the last two months. I'm not really happy with my game. But then again, I've had a lot on my mind. Louis, my second son, was born only two weeks ago. When golf isn't your priority you have to accept whatever direction your game might be going. Golf will never give you anything unless you make the effort. I don't feel bad about it—I'm just too preoccupied by other things. I haven't been lazy, but now the commitment is back. I'm sure of that.
HKG: Committed enough to win again?
JVDV: I won in my 20s and I won in my 30s. Now I want to win in my 40s. I want to win in three different decades. That's the goal. You have to have goals.
HKG: Your last win—the Madeira Island Open in 2006—what did that mean to you?
JVDV: I had come close so many times prior to that. Not including the Open, which was just freaky, I missed out at the Open de France and lost a playoff in America. Winning is always nice. Because of an injury, I couldn't walk in 2002 and 2003, and in 2004 I only played five times. You can't be competitive like that. When I lost out at the French Open I was just trying to walk and play golf. It was disappointing, but it was also a good feeling to know that I could play again.
HKG: You've played in the Ryder Cup. Will Faldo make a good captain?
JVDV: How can Faldo not be a good captain? Look at his experience. I mean—6 majors! Excuse me—6 majors! That's more than Ernie Els, that's more than anyone apart from Tiger. Experience is important in Ryder Cups. He might be introverted, but he'll find his way as long as he can communicate with the players, which he will. Faldo will
be fantastic in America.
HKG: So Europe will win?
JVDV: Yes, Europe will win. I don't care about the score—as long as they win. That's what counts.
HKG: You didn't qualify for the British Open at Carnoustie last year, but a lot of people were suggesting that you should have received an invite based on your performance the last time around. What did you make of that?
JVDV: I was flattered. I play golf because I love to play golf, and obviously there were a lot of people who watched me play in 1999. But the fact of the matter is that I was injured during qualifying and couldn't compete. I don't believe anyone has ever received an invitation to the British Open— you have to qualify, which I didn't do. I don't hold it against the R&A—that's the way it is. What can you do? I was disappointed to miss out, but nevermind. If I win at Birkdale this year, no-one will care about last year. I'm cool with it.
HKG: How cool were you with what happened in 1999?
JVDV: Ha! The way that ball hit the grandstand and came down, it's a fluke...it's freaky. You have to remember golf is a game—it involves luck. Whatever game you play, luck is involved. In golf, 2 plus 2 doesn't equal 4. Yes, you could argue that I played the wrong shot, but I could have hit 8-iron back to the fairway and it could have hit a sprinkler head and gone out of bounds. If it's not meant to be, it's not meant to be. I was sad, yes, but is it really important? Of course not. You're in the golf business, who won the Open in 1992?
HKG: Faldo.
JVDV: Who won in 1985? HKG: Err, Lyle? JVDV: OK, who won in 1964? HKG: No idea.
JVDV: See, we're both in the golf business, but we still have to check. We don't even know. In a hundred years, people won't know what happened in 1999. They'll look at the trophy and see the winner's name. People die every day in conflicts all over the world. That day at Carnoustie, John F. Kennedy Jr. died in a plane crash. Here I am trying to hit a golf ball into a hole. It might be important for me, but not for anyone else. Let's be realistic.
HKG: How important is golf to you now?
JVDV: At the end of the day, if golf is what defines you as a person then you're a loser, because you're always going to lose more times than you win. Golf is a part of me, but it's not me. The way I reacted in 1999 is an aspect of me.
HKG: Did you watch the British Open last year?
JVDV: I watched Garcia play [holes] 2,3,4 and 5, and then I switched off. I don't watch golf. The only exception is the Ryder Cup—I'll sit down and watch that all day. I love the confrontation of matchplay. A golf tournament is a golf tournament. I play in them every week.
HKG: You didn't see Harrington make double bogey on the eighteenth?
JVDV: No. A friend of mine called me on the final day and asked if I wanted a bet. I picked Harrington straight away. I knew he was going to win. My friend staked his money on Garcia. Padraig is an amazing player—and so is young Romero, and so is Garcia. It was just a feeling I had. Carnoustie is a good course for him. There's only one blind shot, and that's the second shot on the 14th, a par-five. The course suits his game. People don't realize how tough a finish it is...15 to 18—it is the toughest finish of any course in the world by a mile. It's brutal. It doesn't take much [to mess up] 18—if you hit it in the water on the right you're left with 215-yards to the front of the green. There's Out of Bounds to the left. It's brutal...brutal.
HKG: But isn't that what separates the men from the boys?
JVDV: I don't consider myself a man yet. When it's windy and tough it can go against you. You have to find pleasure in that. If not, find another game to play.