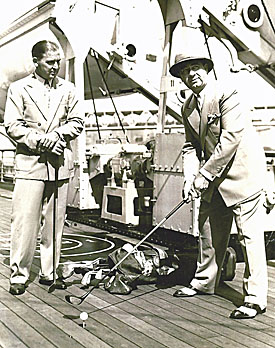 Driving through the gates of Hungjao Golf Club in war-ravaged Shanghai in April 1938, Walter Hagen had a bad feeling.
Months of conflict between the occupying Japanese forces and the Chinese militia had left the City is disarray. The roadway was badly pock-marked and soldiers stood guard every fifty yards up to the bomb damaged clubhouse. Greeted by a welcoming party which included the Japanese Commanding Officer and various British dignitaries, the American star was invited to view the golf course he was due to play a few hours later. Pointing to the eighteenth green, he noticed the freshly turfed grass and unfilled bunkers.
"They were shelled a few days ago," explained Anthony "Frank" Hastings George of the British Consulate. "They rebuilt it especially for your visit!"
Hagen remained unconvinced. Playing an exhibition match in the middle of a warzone was never a smart move and he attempted to pull out. Informed that a ceasefire had been agreed just for that day and how he risked causing a diplomatic incident, he reluctantly agreed to walk a few more holes. Most were in playable condition and Hagen reluctantly agreed to go ahead. Never one to resist a challenge, even "Sir Walter" might have changed his mind had he witnessed the removal of dozens of dead bodies from the course the previous night. Worse still, those that could not be removed in time were buried in small mounds around some of the greens.
Exhibition matches were a way of life for pro golfers in the Depression-hit decade of the 1930s. For top players like Walter Hagen, Gene Sarazen and Tommy Armour, winning majors may have been the priority, but it was the weekly slog across the United States that paid the bills.
Tournaments were hit-and-miss affairs with anything outside top-10 prize money often swallowed up by expenses. For many it was far easier to turn up at some backwater golf club, play a quick round, shake some hands and pocket a quick US$200, plus side bets. Or as Hagen himself put it: "Winning [US] Opens may have put champagne in my glass but it was beating some club pro in Pocahontas, Arkansas that put bread on the table ..."
So imagine the 'bread' on offer when Hagen unveiled his ground-breaking plans for a "circumnavigation of the golfing world!" Never one to think small, it would last a mammoth eighteen months and take in over 32 countries including New Zealand, Australia, Fiji, Singapore, Egypt, Malta, France, England, Scotland Wales and Ireland, Belgium, Germany, Switzerland, South Africa, India, Kenya, Ceylon [now Sri Lanka], the Philippines, Japan, Hong Kong and China.
Pages
Click here to see the published article.