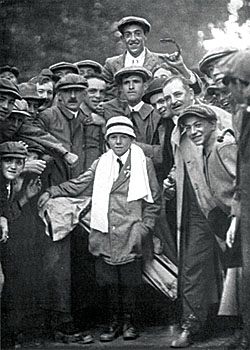 Francis Ouimet
Tom Stewart Mashie
1913
This year's US Open marks the 100th anniversary of Francis Ouimet's dramatic victory over Harry Vardon and Ted Ray at The Country Club in Brookline, Massachusetts. After struggling early during his final round, the 20-year-old amateur bounced back to tie Vardon and Ray for first place at the end of regulation play. His big shot came on the 17th hole when he hit his Tom Stewart mashie (equivalent to today's 5-iron) to 15 feet and drained his birdie putt.
The next day in driving rain, the "stripling scarcely out of his teens" – as the New York Times described Ouimet – played his best golf of the tournament and soundly defeated the illustrious British pros in an 18-hole play-off. Today, Ouimet is known as the "Father of Amateur Golf" in the States and historians point to his victory as the spark that ignited Americans' interest in the game. The USGA, conductors of America's national championship, owns four clubs Ouimet used in the 1913 Open, including his famous mashie.
Pages
Click here to see the published article.