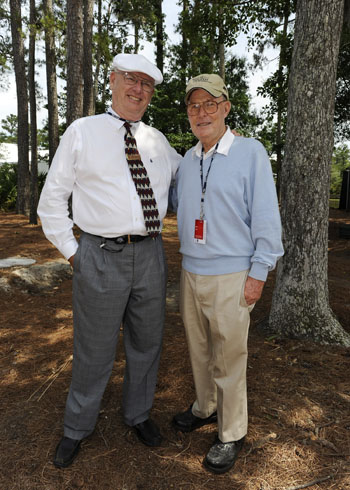 Where do you think Stenson's final round of 66 ranks in PLAYERS Championship history?

It's right up there with the very best, probably in the top four or five of all time. Other notables include Greg Norman [1994], Davis Love III [2003] and Fred Couples [1996], who all had great final day performances. Stephen Ames [2006] had a great round too. But Henrik is a wonderful champion. He missed one fairway all day, and on 18, one of the most difficult driving holes on the course, he hit his 5-wood 300 yards right down the centre. That just shows how brilliant he was swinging.
The PLAYERS has had the tag 'golf's fifth Major' for a while now. Where do you stand on that and do you think it'll one day shed its unofficial status and become a Major?

Well, the players this year were comparing the championship to the US Open – the strength of the field, the course setup – which was great. The players themselves and the media will decide when it officially becomes a Major. But let me take you back. In the 1920s and 1930's the amateur game was the pinnacle of the sport. The "Bobby Jones Slam" was winning the US Open, the US Amateur, the British Open and the British Amateur – they were the four Majors of the time. Then the Masters came along and it evolved into a Major, while the amateur events faded with the transition of making the game more professional. So things change. Later, the PGA Championship became the championship for the players, but only until the late 1960s when the PGA of America and the PGA Tour split. It was Deane Beman who created the Players Championship, because he felt the players didn't have their own tournament. We're in a very unique position, but I don't think the players would allow someone else to "create" a Major. It takes time and I think it'll happen. Every year the reputation of the championship increases. Henrik [Stenson] and Sergio [Garcia] – our last two champions – have grown up watching it on TV every year, like many of the other young players on Tour, which I think also helps. And like Augusta, the Players is played on the same course each year.
Which has been your favourite PLAYERS Championship?

Good question. I don't think I can pick a single favourite. I've been living in the area for 10 years and I think it was great for Jacksonville that we've had two local winners: Mark McCumber and David Duval. And of course David's victory was made especially sweet when his father won on the Champion's Tour on the same day.   
Pages
Click here to see the published article.