Down, But Not Out
Darren Clarke has endured a disastrous time on the golf course since lifting the Claret Jug twelve months ago, but as Lewine Mair explains, in Royal Lytham & St Annes, the defending champion will be returning to one of his most favoured haunts.
Almost everywhere Darren Clarke has played since winning last year's Open, he has been invited to bring along one or both of Alison Campbell and the Claret Jug.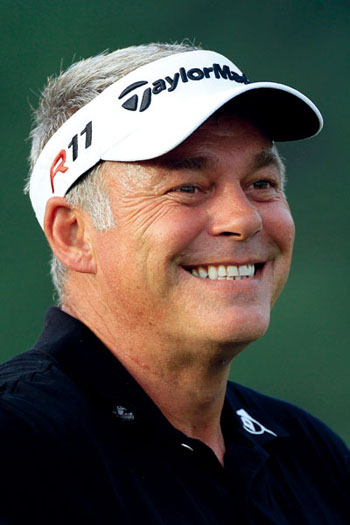 To have Alison at his side – the pair were married after the Masters – is a long-term scenario. The same, though, does not apply to the Claret Jug. If the Ulsterman's game does not kick in pretty quickly, he has no chance of hanging on to the prized silverware for another 12 months.
Showing the trophy around the world has prompted any amount of pride on the player's part. At every stopping-point, Clarke has reiterated how honoured he is to have won the greatest championship of them all: "If, when I set out to be a professional, anyone had asked me which title I wanted the most and which was the one where I would have my best chance, I would have gone for the Open on both counts," he said.
During trips home to Portrush, the trophy has been prominently placed in his kitchen. Initially, it gave him a delicious early-morning dose of memories; more recently, it has prompted a degree of alarm. Clarke being Clarke, it is immensely important to him that he looks the part of a defending champion when he tees up at Lytham and, so far this year, he has missed every cut going.
It was at the World Match Play Championship in May that a gentle reminder along the lines that he had not been playing that well prior to Royal St George's last year, prompted him to say what was really on his mind.
Written by Lewine Mair
Photography by AFP
Click here to see the published article.