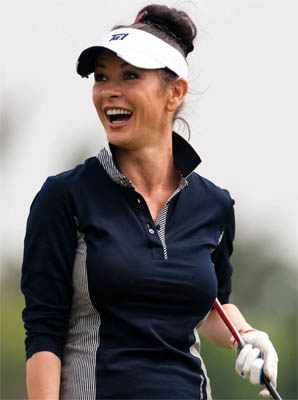 Catherine Zeta-Jones's presence in Haikou, northern Hainan, is a little perplexing. Her husband, Hollywood grandee Michael Douglas, was diagnosed with throat cancer in August and she hasn't made a public appearance since the Ryder Cup at Celtic Manor w here, as a proud Welshwoman, she was heavily involved in the pre-event festivities. You have to think that turning up to compete in a pro-celebrity golf tournament on the other side of the planet would not be high on her list of priorities. But here she is and, without trying to sound too much like a fawning little toad, she is utterly delightful and engaging.
As far as fame goes, Zeta-Jones sits right up there with Tinseltown's biggest and brightest stars. An Oscar winner thanks to her role in the universally acclaimed 2000 film adaption of the musical Chicago, Zeta-Jones recently picked up another award – a Tony – for her portrayal of Desiree in the Broadway hit, A Little Night Music. Now 41, the surprisingly petite but still ridiculously beautiful star of Intolerable Cruelty and The Mask of Zorro has entered the interview room to talk about golf, a game that she says provides a "wonderful solace."
While it is made clear to us, a small group of journalists, beforehand that she'd rather not answer any questions about her husband's health, a British tabloid hack sneaks one in anyway, and Zeta-Jones responds by saying, in her slightly odd Welsh-American twang, that it is "business as usual" in her family. It is a potentially awkward moment but, just like all the questions she fields over the next 15 minutes, she handles it with aplomb.
Pages