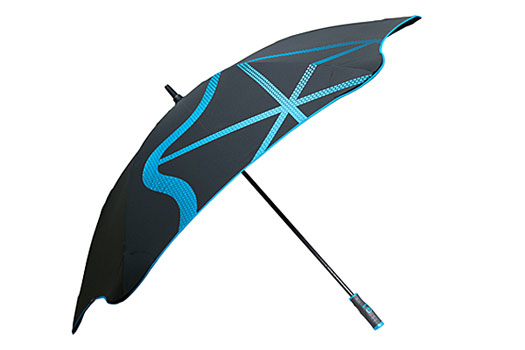 Developed with veteran caddie Steve William's experience from more than 30 years in the game, the Blunt Golf G1 and its larger sibling the G2 incorporate this New Zealand brand's revolutionary canopy strengthening RTS Technology. According to Blunt, only their product has a fully tensioned canopy that maximises the umbrella's overall structural integrity and aerodynamics. The RTS achieves this by harnessing the users' effort in opening it to extend the frame's telescopic ribs outwards, like fingers stretching into a glove. Then the patented Blunt Tips at the end of each rib open like miniature umbrellas, inside specially designed pockets, and evenly distribute the tension to the canopy's edge.
This ground-breaking system creates a perfectly taught canopy surface, which ensures you have an umbrella that will effortlessly handle the worst conditions it is possible to play in. In recognition of this design feat, the Blunt Golf_G1 has won a globally prestigious iF Product design award for 2014.
Williams, who has caddied for both Tiger Woods and Adam Scott, said: "What Blunt has achieved is simply game-changing. They have revolutionised a product that I have always had an issue with. During my 30-plus years of caddying all over the world, I've experienced every possible weather condition and used many different umbrellas. You fight the wind to hold onto a normal umbrella. The difference with the Blunt is that you don't have to fight with it - it's effortless to control in the wind and lasts much longer than all other, so called, golf umbrellas!"
Blunt umbrellas are available for purchase through the HK Golfer Store. For more information, including personalization and bulk orders, write to blunt@hkgolfer.com
Click here to see the published article.