HKG: JMP is one of the major players in golf course design in China. How did you get involved in the market and how many courses do you have open now?
MH: In the late '80s and early '90s we were doing a lot of work in Japan. We actually completed around thirty-five courses there. But it soon became obvious to us that the economic bubble was going to burst and so we decided to branch out and look for projects in Southeast Asia—Indonesia, Malaysia, Taiwan and the Philippines. China was developing and it was on the back of our other work in the region that we became involved on the mainland. 1994 was my first project – Long Island [in Dongguan]. Then I did Lakewood [Zhuhai] and then Agile [Zhongshan]. I now have fourteen golf course projects completed in China and a number of new ones coming up.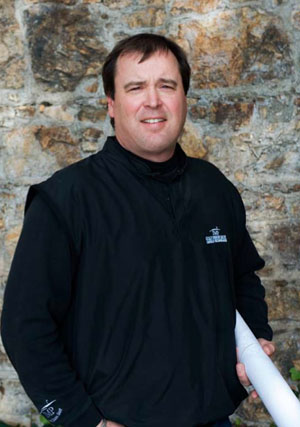 HKG: It's obvious over the past few years that given that course construction in the States has stagnated, more and more western designers are jumping on the China bandwagon. Does this worry you at all?
MH: While it's true that there's more and more competition, I'm not unduly worried at all. What a lot of people don't realize at first is that it's a completely new mind set working overseas. You have to have the commitment to work in China, which is hard for a lot of American firms especially. You have to spend time here. I work 100-plus days a year on the mainland, which you have to in order to give your clients value.
HKG: "It's a good test for the better player, but higher handicappers will enjoy themselves too." This has to be the biggest cliché in course design. Who are you actually designing courses for?
MH: [Laughs]. Well, I try to make my courses playable and visually stunning, but I also try and build in the option that the course can be set up for tournament play. This year, two of my courses [Luxe Hills in Chengdu and Longxi Hot Spring in Beijing] hosted Omega China Tour events— and the results were surprising. They really chewed up Luxe Hills—the winning score was 18-under- par—but at Longxi only one player finished in red figures. I thought it would work the other way around. But the fact is you can't just design for the pro. It's an ego boost when you get good feedback from the pros, like those two courses did, but you really have to look at it from the point of view of the average golfer.
HKG: How much influence does the owner of the course have in your design? And more to the point, how important is it to have a knowledgeable owner?
MH: Very. Listening to the owner can be useful, but only if he understands the game. If he does, then it's great to obtain his feedback. If he does not understand the business of golf, then he is not a great help. In that situation, if the owner doesn't have any experience in golf course construction, it becomes my job to help him achieve financial success, which is the whole point. For instance, down at Sun Valley [on Hainan Island], I advised the owner that we had to keep the fairways wide and to build spacious greens, and try and keep the course playbable and not too severe for the average player. It's a resort area, so it had to be an enjoyable golf course with a tropical environment which was
special. It had to be a place where a guy and his wife, who are on vacation, can come and play and enjoy. It's a holiday course. It's not a place that has a really good standard of players among its membership. You have to design for the market in which you are working. Since it's opening, Sun Valley has received extremely good feedback because of its playability and because of its setting, and I am very proud of this. There are a number of owners now in China that have become real students of the game, which helps my job a great deal.
HKG: What distinguishes a Hollinger design?
MH: Gosh. [Laughs]. The landscaping element in a big factor, but I go through phases. The style of bunkering changes depending on the phase I'm in. I want all of my courses to have a different look. I don't want my courses to be categorized in a certain way—I don't want people to think that all Hollinger courses will play and look the same. In fact, I'll change the shapers and construction companies from project to project to help achieve that. I always want a different look.
HKG: Who are your mentors and influences in golf course design?
MH: I love Alister MacKenzie and Tillinghast courses. I love their unique bunkering styles— their courses have stood the test of time. I like Tom Fazio too. Nicklaus and Rees Jones have done some very good work as well. Some of Pete Dye's work is genius. It's more about picking specific elements of designs from other great architects.
HKG: What's your favourite course? You can pick one of your own, if you like.
MH: Designers would never pick their own courses. When we play our courses we only ever see a thousands things that we'd want to be different. It's very rare for a designer to be 100% satisfied. My favourite course is probably Cypress Point [an Alister MacKenzie design in California]. It's an enchanting place and not far from where I live. I could play it every day for the rest of my life. Royal Dornoch in northern Scotland, where Donald Ross worked as a greenkeeper, is another of my favourites. It's an Old Tom Morris design. There's nothing fancy about it, just great design. I'm from the South of the United States and I've played a lot of Ross courses. You can see the influence of Dornoch at a lot of his places.
Pages