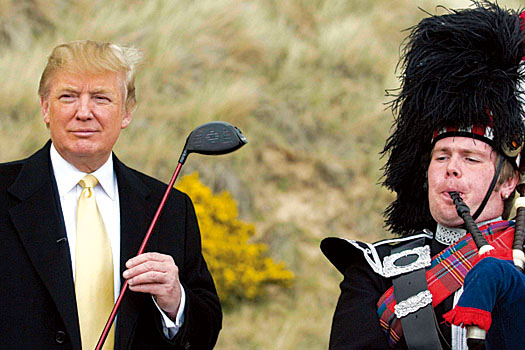 Can it really be true? With the Christmas decorations already looking tardy, December's diary bulking out with office parties, and the "SALE" posters ready to go up in shopping malls everywhere, 2014 is almost ready to be consigned to the scrapbook of memories. Time then to award the ancient and historic "Jules Awards" that have been eagerly awaited every year since 2013. Unlike the BBC Sports Personality of the Year Award, the recipients, for the most part, would probably rather not have been nominated.
That said it seems apposite to start with the "Luckiest Plonker of the Year" which must go to Greg Norman for his lunatic attempt to amputate a hand with a chainsaw, when he should have been checking out the latest "Shark" clothing samples, or testing the mix on his new grass seed variant. As someone who regularly swings from a dodgy ladder trying to lop off a high branch on my distressed willow, with chainsaw precariously gripped in one hand, I feel justified in lampooning the great man. Thank heavens though that luck was very much on his side. Not something that you could always say about his golfing career.
Talking of mega-rich, highly successful blondes, the awards for "Mr Modesty" and "Mr Unassuming" are combined this year and go to the very deserving Donald Trump, who is now spending an estimated £250 million to upgrade the shamefully tatty resort at Turnberry. By the time The Open championship returns there, the distinctive old Lighthouse will have been converted to a Halfway House, and the 18th will see Mickey and Minnie popping up out of fairway bunkers, with a cardboard cutout of Alex Salmond ducking and diving as a moving target on the green.
The former Scottish First Minister incidentally takes the award for "Irrelevant Ubiquitous Presence", as he attempted to use golf, and specifically The Ryder Cup, for his own Independent ambitions.
Pages
Click here to see the published article.