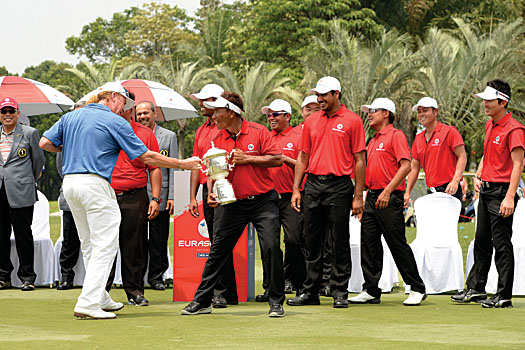 Europe's efforts sadly weren't quite enough to earn them "Team of the Year". That honour goes to Thongchai Jaidee's Asian side in the inaugural Eurasia Cup for their magnificent, and most unexpected fightback after a first day's whitewash, to secure a tie. Brilliant.
Mercedes Benz-sponsored German, Marcel Siem, earns "The Most Tactless Win" trophy for his success at the BMW Masters in Shanghai.
The awards for "Best Venue on Tour" and "Most Welcoming Venue on Tour" both go to the magnificent Hong Kong Golf Club at Fanling. Everyone involved at the club should take a bow for their superb staging of the Hong Kong Open. (These awards are made without the slightly hint of prejudice).
"The Rookie of the Year" is unquestionably Warren Humphreys, for his stellar debut performance as an on-course commentator at the aforementioned Hong Kong Open. My colleague Dougie Donnelly will be convinced that he has wrapped up "TV Commentator Of The Year", but in a close fought battle, Dominique Boulet just edges it, by virtue of the fact that he buys me lunch more often and that he has changed my swing from looking like a monkey impersonating a 24-handicapper to a passing imitation of a Champions Tour professional … allow me to dream, please!
Pages
Click here to see the published article.