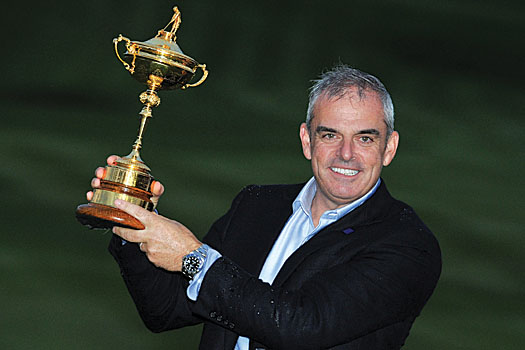 The Ryder Cup was arguably the highlight of a brilliant golfing year for Europe, and so Gleneagles collects two awards: "Best Venue to stage The Cup" rewards a fantastic effort by all involved, and they even got the weather right. Sadly their celebrations will be slightly marred by also receiving "The Dullest Course Ever to Stage The Cup" award. This is not presented lightly as there are plenty of serious challengers, notably The Belfry in its early stagings. But having walked 36 holes a day for three days, I don't feel a compelling urge to go and 'golf my ball' there (as the Americans so eloquently describe it), which surely I should? The Kings or Queens courses … now that's a different story.
Europe's victorious Captain Paul McGinley left no stone unturned to ensure that his side emerged triumphant yet again. He takes the honours for "Shrewdest Humble Line by a Winning Captain" for his comment that he will now forever be linked in history with his great golfing hero Tom Watson. The one whose team he had just thumped.
At the same time poor Old Tom was being lambasted by his most senior player for incompetence and stubbornness. Phil Mickelson then collects the statuette for "Saying the Right Thing at the Wrong Time". Whether he will be invited to demonstrate how the job should be done in future remains to be seen, but it should make for compelling viewing as the PGA of America goes through the motions of appointing their next captain. Their former president, Ted Bishop, who actually now officially never was their President, probably deserves many awards, but having witnessed at first hand his maniacal tendencies as Old Tom's self-appointed buggy operator, he gets my vote as "Most Arrogantly Dangerous Driver On A Golf Course". How he didn't collect a few kilted trophies on his way round remains a mystery; or perhaps he did and they too have been expunged, Stasi-like, from the record?
Pages
Click here to see the published article.