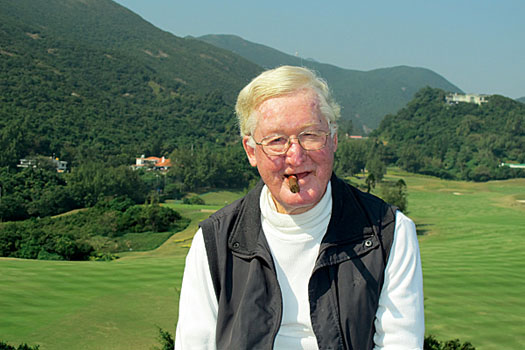 He may not be the finest golfer that Hong Kong has ever produced, but Peter O'Neill's story is right up there with the best of them.
Connecticut-born O'Neill, now in his eighties, arrived in Hong Kong via a whole stream of countries, including France, Germany, Spain, Ireland and Vietnam, in 1966 and has since become one of the most revered members at Shek O Country Club, which he joined that same year. Talk to the club's membership today and you get a very clear idea of how highly he is thought of. "There is nobody like O'Neill," one member told me over lunch at the Hong Kong Club. "He's charismatic – a great golfer in his time, yes – but he's much more than that. He has it all. A gentleman, an entrepreneur ... he's one of the most interesting people you could ever wish to meet."
More than a little intrigued, I bordered the ghastly TurboJet to Macau, where O'Neill now resides. With the Shek O member's endorsement ringing in my ears – not to mention the fact that the mysterious O'Neill has won numerous club events in recent years by beating his age – I was genuinely excited to meet him. Interviewing internationally-recognised professional golfers for a living is all well and good, but I know from experience, they don't always make the best copy. This O'Neill character, I thought, might be worth a yarn or two.
We've arranged to meet in the Clube de Militar, a colonial-era establishment in the centre of town, where O'Neill is a member. I arrive early and faff around checking my email in the bar, when all of a sudden I sense a figure behind me.
Pages