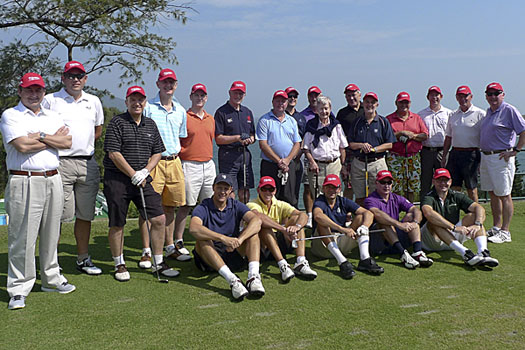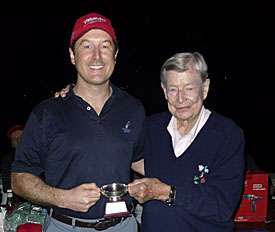 Unfortunately for some, this was the morning after former winner Roy "Crafty" Kinnear's 50th birthday tour of Thailand, so one or two in the field were in self-inflicted sub-par form on the day. The event saw the welcome return to Jock's Pot of former CWB Captain Jim Graham, and he and his team of Allan McTaggart, Stuart Grant and Paul Curran handily took the team prize with 150 points, a full 38 points ahead of the nearest challengers. They were rewarded with a fine bottle of The Glenlivet 18 yr old.
Title-holder Stuart Grant put up a decent defence of his title with 34 points, but he could only manage a mid-table finish.
Guest Merv Jacobs handily took the bottle of champagne for best placed non-member with a fine tally considering he was one of the "Kinneared" walking wounded.
Another guest Mike Griffiths deservedly won the highly collectable HK Golfer balls given to the most enthusiastic player on the day, his 11 points easily undercutting all comers by a wide margin.
As the final scores started to come in, it was looking as if a repeat 40 point tally by runner up for the past two years, Alan "Lofty" McTaggart would finally secure him victory, but he was once again disappointed as an inspired Kirk "Can't Be" Beaton stormed home with 41 points to claim the coveted trophy. Kirk looked to be about to set a new tournament record score, but a four bogie run from the 14th (including a 4-putt on 16) left him needing a par for victory on the last, which he duly delivered.
Lofty was left ruing a blob on the short 2nd hole where even a bogie would have secured a playoff spot.
Kirk grew up playing Gourock GC with his father, but now sees Loch Lomond as his home course. A lack of regular play has seen his single-figure handicap creep up to 12, but his long game is as robust as ever, and a near miss eagle putt on the 300 yd+ 11th hole was the highlight of his round. Kirk gave credit to his playing partners saying "Ken Morrison in particular played some very solid golf, and that made me step up my game on the day."
Several sponsors had contributed generously to make the day a success, including TTI Milwawkee, The Hawaiian Philippine Sugar Corporation, The Glenlivet, Edinburgh Napier University, and HK Golfer.
Results:
1st – Kirk Beaton (41 points)
2nd – Alan McTaggart (40 points)
Keenest Player – Mike Griffiths (11 points)
Best non-member – Mervin Jacobs (31 points)
All are welcome to play in "Jock's Pot. For details contact: admin@standrewshk.org
Click here to see the published article.