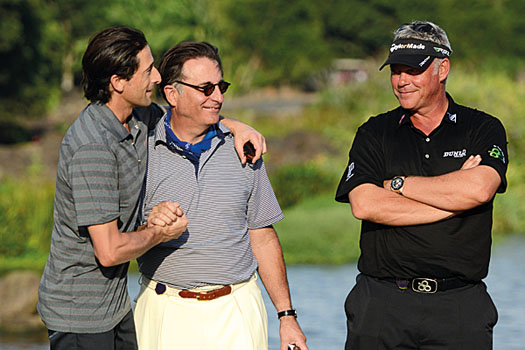 A cigar hardly left the mouth of Hollywood actor and producer Andy Garcia during three days of golf at the Mission Hills World Celebrity Pro-Am event on Hainan Island at the end of October.
But it didn't stop the eight-handicapper from Lakeside Golf Club in Los Angeles taking the amateur trophy with stroke scores of 86 and 82 and from sharing the team event with the professional partner, Ryder Cup player Matt Kuchar.
You could say the Cuban-born Garcia, 56, was smoking hot all weekend.
Played at Mission Hills' signature Blackstone course, the event attracted pros Darren Clarke, Simon Dyson, Ian Woosnam, Rich Beem and Anthony Wall as well as several LGPA stars. They paired with celebrities including Ryan Reynolds, Ronaldo, Minka Kelly, Michael Phelps, Yao Ming and Adrien Brody.
Garcia – who starred in The Godfather Part III, Ocean's Eleven and its sequels and Internal Affairs – began playing golf in 1985. He is an enthusiastic once-a-week club player who showed considerable driving skills and touch around the greens.
This was his second pro-am victory. In 1997, he won the Pebble Beach Pro-Am with Paul Stankowski, with a still record score of 43-under-par.
"Since then, I've only made the cut once [at that event]. It's great to compete and win, but it's more about the memories and relationships you create," said Garcia. "Sometimes the golf gods smile upon you, but that's not what's important. Having the chance to play with new people and meet Matt and his family is what counts. At the end of the day, when you look up and close your eyes you have these memories.
"This event is a little more mellow than Pebble Beach," Garcia continued. There you are surrounded by noise and people all well but everyone has had a great time."
Pages