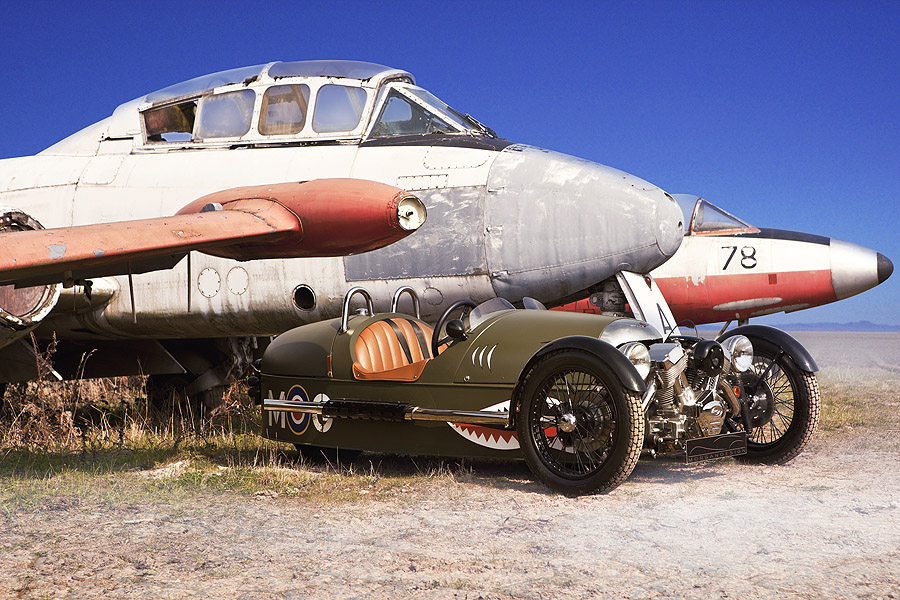 Charles Morgan must be wondering why he didn't do this years ago. The Morgan Motor Company was founded by his grandfather HFS Morgan just over a century ago and has remained in family ownership and control ever since, assembling its idiosyncratic sports cars by hand and at a glacial rate at the same premises – Pickersleigh Road, in the small Worcestershire town of Malvern – for almost its entire history. All car enthusiasts like to think they know a few Morgan facts, such as how the cars' frames are still made of ash timber (some still are, but not the important, stressed parts) and how you need to put your name down at birth if you want to get one by the time you retire (the waiting list is actually much reduced, and down to a mere year or two, depending on the model).
A lesser-known but entirely true Morgan fact is that the firm started by building three-wheelers; in fact it had been going for a quarter of its storied, century-long history before it built its first conventional four-wheeled car. HFS Morgan's first three-wheeled designs were simple and lightweight, allowing them to use early motorcycle engines, which in turn made them affordable. But lightweight can also mean fast, and it wasn't long before HFS's odd-looking cars became more powerful and streamlined and went racing. They set all sorts of speed and endurance records and lapped the infamous banked Brooklands track in Surrey alongside the thunderous, terrifying, aero-engined racers of the day. Three-wheeler production restarted after the Second World War, but in austere times exports had to be prioritized, and cars with four wheels sold better overseas. Morgan built its last three-wheeler in 1953.
Its last until now, that is. Other car companies endlessly plunder their back catalogue for retro inspiration, but Morgan doesn't have to: it's still building the same cars it was in the fifties. Of course, there have been newer designs like the AeroMax, with entirely modern engineering but the same Morgan aesthetic. But Charles had always resisted reviving his grandfather's greatest work and the rock on which the family firm was founded, until a Morgan enthusiast in America designed and started to build a tribute to those pre-war three-wheelers. It looked good and was sensational to drive, so with an agility that the huge, monolithic mainstream carmakers just wouldn't recognize, Morgan bought up the design, put its own stamp on it and is about to put it into production at Pickersleigh Road.
Pages
Click here to see the published article.