"I had a Bugatti Veyron for a few months," says Jenson Button. The Veyron is the world's fastest, most expensive car. "But I wouldn't compare it to this. It just wouldn't be fair on the Veyron."
Of course, you'd expect Button to be positive about the latest venture from the Formula 1 team that employs him. But his enthusiasm seems utterly genuine; uncontainable, even.
We're sitting talking in the new McLaren MP4-12C supercar as another, bright orange example goes streaking down the main straight at Portugal's Portimao circuit. Despite having spent all morning on track, Jenson plainly hasn't had enough. "Let's go chasing," he says, so we reach up, pull the gullwing doors shut and conduct the rest of the conversation at race pace.
It's hard to overestimate the importance of this new car. Ron Dennis, McLaren's famously detail-obsessed boss, has decided to create, from scratch, a British supercar maker to rival Ferrari. Within five years, McLaren will have a range of three supercars, plus lightweight and open-top derivatives, and will make 4000 of them each year in the Norman Foster-designed factory it is building next to the McLaren Technology Centre, Ron's Bond-villain headquarters sunk into the English countryside near Woking in Surrey. It's a risky venture; the market for supercars is slowly recovering, but Dennis and his partners have no guarantee they'll see the €900m they've invested in their road car project again.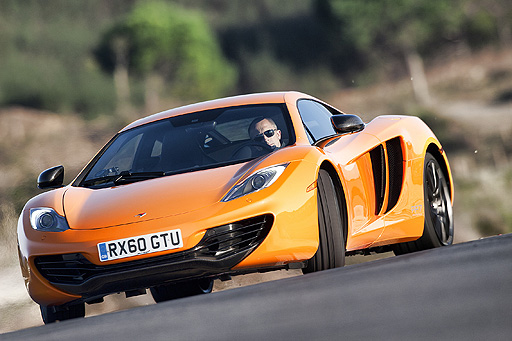 McLaren has built road cars before. It made over 2000 carbon-bodied, €350,000 SLRs for its partner Mercedes between 2003 and 2009. And most famously, it built just 107 examples of the McLaren F1, at the time easily the fastest, most expensive car in the world, and now acknowledged as one of the greatest cars ever made. You'd have paid at least €630,000 if you'd had the foresight to buy one new; now, the best examples sell for €3.5m, if you can find an owner wiling to sell.
So will your 12C prove to be as good an investment? It will be a lot cheaper, and McLaren will build a lot more of them; around 1000 of this model each year at €200,000 (HK$3.95 million in Hong Kong), pitching it directly against Ferrari's sensational 458 Italia. But like the F1 and every McLaren Formula 1 racer since 1981, the 12C gets a carbon-fibre chassis, making it around 50kgs lighter than the aluminium Ferrari. It has more power too; its all-new twin-turbocharged V8 engine has a colossal 600PS to the Ferrari's 577.
So how quick is it? When the McLaren F1 first appeared it redefined fast, but the 12C accelerates even faster, and for a third of the price. It gets to 100kph in 3.1 seconds, shading the F1 by two tenths, and is half a second faster to the benchmark 200 kph at just 8.9 seconds. Less power means its top speed isn't as high, but 330kph is hardly slow, beating the Ferrari by just 5kph. Privately, McLaren's engineers say that number is conservative.
I'd agree. On test, a couple of miles of clear, straight road I easily hit a genuine 309kph. The car was still pulling like a freight train; there was plainly lots more to come. The brawny turbocharged V8 delivers its grunt lower down the rev range than the highly-strung Italian, and the sensation under full acceleration is closer to the mighty Veyron. The seven-speed, twin-clutch gearbox works like a proper F1 shifter. Hinged around the wheel, you can pull with your right hand or push with the left to change up, and there's a hard, hollow howl as you home in on the 8500rpm redline.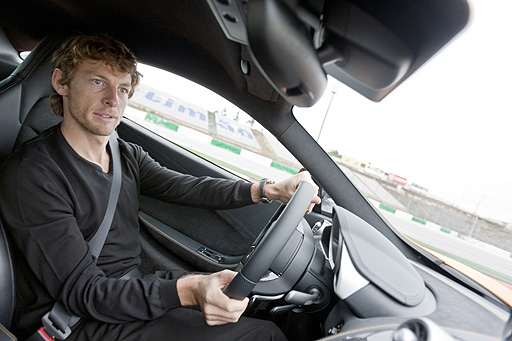 The way it stops as almost as impressive as the way it goes, and so is the way it goes around corners. The radical new ProActive chassis control system delivers both near-flat cornering on fast roads or racetracks, and a limo-like ride on cratered urban tarmac; they're usually mutually exclusive. And the handling is incredible, the 12C using the Brakesteer system, developed by McLaren for its F1 cars but banned by the sport's bosses, to gently brake the inside rear wheel through corners, sucking the nose tight into the apex.
It's even good as a daily driver. Supercars are usually a pain to get into, see out of, and park. No such issues here; the gullwing doors look dramatic but make access easy, and the terrific visibility, comfortable ride and quiet (maybe too quiet in 'normal' mode) exhaust make the 12C a car you'll be happy to bimble around town in. Bet you never thought you'd read that about a McLaren.
The only real flaw we can find with the MP4-12C is its flawlessness. It's oddly cool and aloof. Criticizing a car for being too perfect seems odd, but in a supercar, character and emotion and idiosyncrasy count for a lot too.
Not that this is bothering Button, still out on the track and driving like his hair is on fire. When does he get his? "They haven't given me a date yet. But I've ordered it. Black paint, black wheels, black cabin, red brake calipers and red stitching on the seats. It looks terrifying."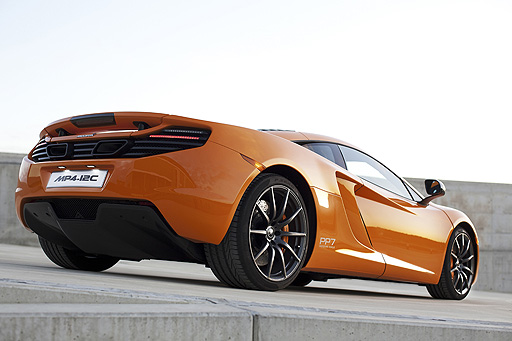 SCORECARD
How much? HK$3.95 million
Engine: 3799cc twin-turbo V8
592bhp @ 7000rpm
443lb-ft
Transmission: 7-speed automatic dual-clutch
Performance: 3.1sec 0-100kph, 330kph
Construction: Carbon fibre
How heavy? 1434kgs
Click here to see the published article.