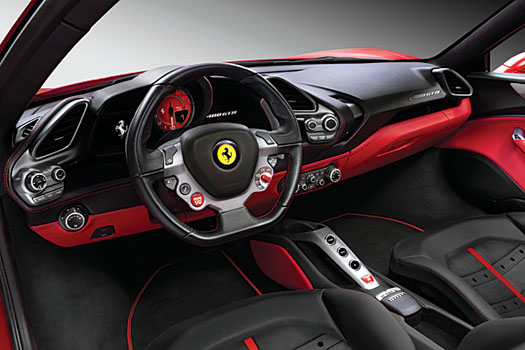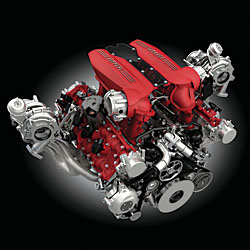 And why might turbocharging be a problem? Because much of Ferrari's appeal (and thus success) as a maker of road cars has been in the edgy and hugely exciting nature of its naturally aspirated (i.e. non-turbocharged) engines. A turbocharger forces air into the engine under pressure, meaning more fuel can be burnt, but also allowing a smaller engine to produce the same power as a bigger one, and more economically. But a turbocharger can also dull the sound and responses of an engine, and if that's the case with the new 488GTB, Ferrari (and you) might have a problem.
Ferrari did turbocharging very well in the 1980s. And the statistics for the new 488GTB look very promising: the engine is 600cc smaller than the outgoing 458 Italia's at 3.9 litres, yet it produces 100 horsepower more at 660bhp. Just as importantly, fuel consumption and emissions improve by around 15%.
Greener and much meaner? Aren't those two supposed to be mutually exclusive? On paper, it looks like Ferrari has cracked it. And given that the Prancing Horse hasn't made a bad car in over twenty years, its form is good. But the real test comes when Maranello takes the 488GTB off its motor show podium and puts it on the road for us to drive. That's when we find out if it still feels like a real Ferrari. I look forward to telling you. And this time, it won't just be petrol heads and potential customers who will be waiting for the verdict.
Scorecard
Ferrari 488GTB
How much? TBA
Engine: Twin-turbocharged 3902cc V8, 660bhp at 8000rpm
Transmission: 7-speed twin-clutch automated manual
Performance: 0-100kph 3.0sec; 0-200kph 8.4sec; max speed 330kph
How heavy? 1370kgs
Pages
Click here to see the published article.