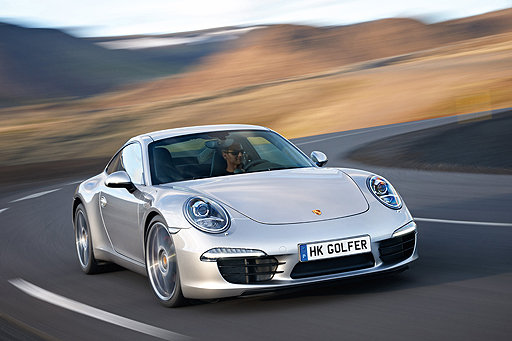 Pictured in this magazine, this all-new Porsche 911 might not look so different to the model it replaces. But see it in the steel and the differences are clear: it's lower, wider and longer between the wheels, and the new rear-end styling is particularly striking and sharky.
The arrival of a new Porsche 911 is an event of major significance to car connoisseurs, regardless of how similar it looks. The term 'icon' is used too loosely, but the 911 deserves it. Its silhouette is instantly recognizable and has barely changed in nearly half a century of continuous production. Its obituary has been written many times, but always prematurely. It stuck with antiquated air-cooled engines until 1997 and the engine is still in the wrong place for handling, hung out behind the rear axle, but Porsche somehow keeps managing to refine its heartland car, and maintain its position as a benchmark for simple, visceral driving excitement.
This is effectively only the sixth generation of 911 to be launched since 1963, so you can see why it's of such significance to Porschephiles. Don't be confused: they'll refer to this new car as the '991', but that's just Porsche's internal product code for this new version of the 911. It's a good one to throw into locker-room conversation about the new car, though, of which there will be plenty. The entry-level engine has actually been downsized to 3.4 litres from 3.6, but is 5hp more powerful at 354bhp and far greener. The Carrera S comes with a 3.8-litre unit upgraded to 395bhp, capable of hitting 100kph in just 4.1 seconds. Makes you wonder why you'd ever need the yet-more powerful Turbo or stripped-out, lightweight GT3 versions that will follow.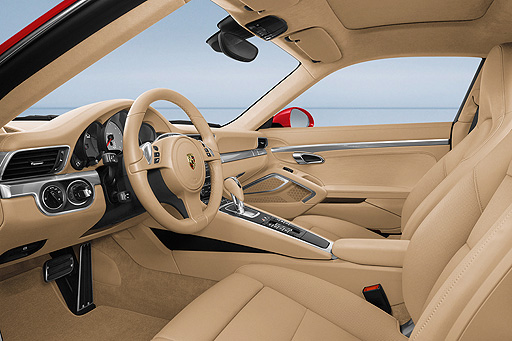 Inside, the old bluff, upright dashboard has been replaced by a more enveloping, horizontal design inspired by Porsche's Panamera saloon and more in keeping with the supercars with which the 911 competes. You'll also notice, on some cars, a manual gearshift with seven forward ratios indicated: the world's first.
So how does it drive? It's a 911. Porsche doesn't make mistakes with this car. At lower speeds it's noticeably more refined, with less road noise and calmer ride and steering. More grown up, if that's possible for a near 50-year old. But at speed it's still sensational: the engine revs higher and harder and sounds louder, and the handling is sharper than before, though as always you need to respect the physics of having the engine's mass behind you when cornering.
It's a better car in every respect, not that there was anything wrong with the old 911. Porsche just seems to have stretched the spidergraph of its icon's abilities a little further in every direction. It does this every time it revisits it, and the result is a car you simply have to own before you die.
SCORECARD
How much? HK$1.979 million*
Engine: 3800cc 24v flat six
395bhp @ 7400rpm
325lb ft @ 5600rpm
Performance: 4.3sec 0-100kph, 303kph
CO2 Emissions: 205g/km
How heavy? 1490kg
*Based on Carrera S model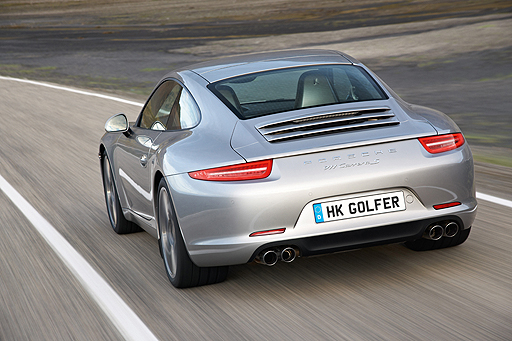 Click here to see the published article.