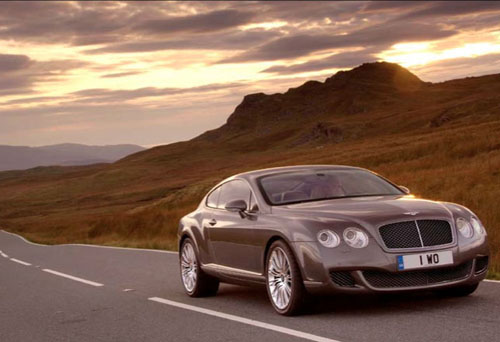 It sounds ridiculous to call a car with a seven-figure price tag a bargain. But the 2003 Bentley Continental GT arrived in Hong Kong with a flashbulb- popping style and a 198 mph top speed that had it flying off the shelves like no other luxury coupe in history. The secret to the GT's relative affordability lay beneath its lovely skin: an aluminum chassis plus engine components and an all- wheel-drive system that were designed by Volkswagen (Bentley's parent) but uniquely engineered for the GT.
With the company's worldwide sales up tenfold since that debut, the HK$3.8 million Bentley Continental GT Speed—its name evoking Bentley's classic Speed models of the 1920s—seeks an even loftier clientele. An obscenely potent twin- turbo W-12 engine (a pair of V-6s conjoined in a W pattern) has been upped to 600 horsepower, making this the first Bentley to crack the 200 mph barrier. The 60 mph mark flies past in 4.3 seconds, which leaves 142 mph to go: not bad for a cruiser that tops two tonnes. To reel it in, add on the largest brakes on any passenger car and you have the most powerful Bentley ever.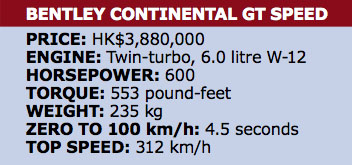 Twenty-inch wheels and Pirelli P-Zero tires, adjustable air suspension and sportier tuning for the steering give the GT Speed uncanny handling abilities for such a massive machine. For its driver, the physical sensations of these forces are pleasantly remote. Credit for this goes to a decadently luxurious cabin, a hand-built pasha's lair of lambswool carpets and artisan- worthy wood inlays available in seven timber varieties.
Any negatives? Although the trunk fits three golf bags, the back seat holds at best two spoiled children. And let's not forget that lackluster 10 mpg city fuel economy. But then again, a Bentley buyer could dig for pocket change, add a Prius to the garage and wash away any lingering guilt.
Click here to see the published article.