Zheng Dai: Life as a Chung Shan Caddie
I was one of the first professional caddies at Chung Shan. Before I started, in October 1986, the green-keepers would do it, but they were only bag carriers at best. I remember going for the selection process. There was around fifty of us there but only ten got chosen. I was 22-years-old at the time and knew nothing about golf, but back then, caddying was considered a premium job, so I was happy to have made it. If I wasn't a caddie I'd probably have become a driver.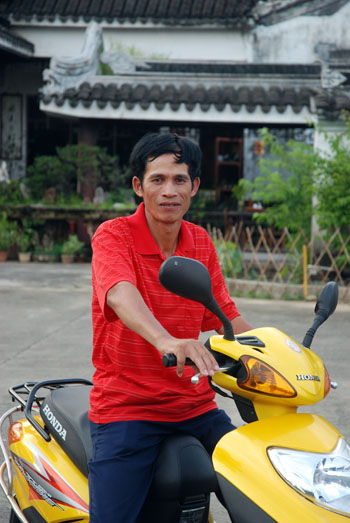 In the late 1980s 70 percent of the caddies at Chung Shan were male. Things change. Now there are approximately 240 caddies and 210 of them are female.
During my first month as a caddie I was paid RMB5 per round plus tips. After that the fee went up to RMB10 a round. In those days it was better to get tips in HK$ because of the exchange rate: HK$20 was worth RMB30, which was pretty good. Today of course we get more. Now the rate is RMB90 per round plus tips. Hong Kong golfers are the best tippers. And of course there are some people who don't tip at all. In more than 20 years of caddying I've only seen four holes in one. I've caddied for quite a few famous people, including [actors] Alan Tam and Eric Tsang.
Nowadays, most parents want their kids to go to college and caddying isn't seen as such a good job. I suppose there are more opportunities for the new generation but most wouldn't make good caddies anyway. Today's youth don't like the sun and they don't like working hard.
The best thing about caddying is the flexibility. I enjoy working outdoors – I wouldn't like to be stuck in an office – and at Chung Shan the caddies are allowed to play on the course once a month, which I really like. My normal score is around 80. I also play on what we call the 'Caddie Course'. We built it ourselves on a construction site. It's very simple but fun to play.
The worst thing about caddying is getting a bad tempered golfer. Some players get angry if they miss a putt and then blame the caddie. It's not the caddie's fault. The player thinks we gave them the wrong line, but actually they just made bad putts.
Because of my experience I now oversee a lot of the caddie training. Caddying has enabled me to support my family and I do enjoy it, but once my two daughters graduate from college I think I'll probably retire.
Pages
Click here to see the published article.