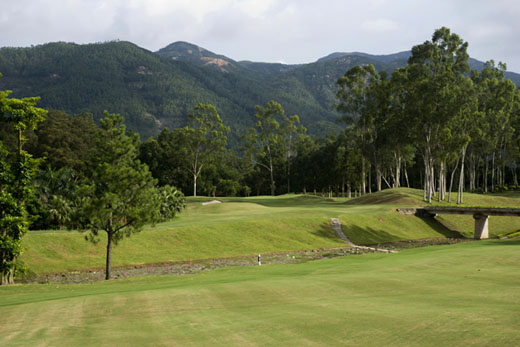 Such has been rate of golf course construction on the Chinese mainland in recent times that no-one is entirely sure how many courses there actually are. From an approximate number of 240 five years ago, there is now thought to be anywhere between 450 and 700. It could even be more; it certainly won't be less. China has taken to golf in a way not seen since the Japanese fell in love with the Royal and Ancient game in the '70s and '80s, but the feeling among those in the industry is that this is only the start of things to come. Japan's course numbers, which once stood at over 2,500, are dwindling; the game, like the Japanese economy, has stagnated resulting in an alarming rate of club bankruptcies. China, on the other hand, thrives, even during these less financially exuberant times. "In China, golf is just exploding," said Jack Nicklaus in July. "China is probably our key market today."
The Golden Bear should know. Like Japan, course construction in the United States is at its lowest point in decades, and architects – from big name designers like Nicklaus to much smaller fry – continue to flock to this part of the world in search of contracts. The game's best players may still ply their trade in America on the PGA Tour, but you're more likely to find world-class golf course designers traipsing around sites in far-flung places like Hainan and Yunnan province than you are in California or Florida. Much has changed.
While we don't yet know where the China golf boom will take us, we do know when and where it started. The year was 1984 and the place was Yung Mo, a sleepy Guangdong village lying in the shadow of the Laoshanwei hills, an hour and a half's drive from the Macau border. In August, the finishing touches of the Arnold Palmer-designed layout at Chung Shan Hot Spring Golf Club were complete and for the first time since the 1930s, when the British enjoyed games on fairly rudimentary layouts in Shanghai and Beijing, the country had a course. Golf in China was back, not quite with a bang, but with the blissful smack of persimmon connecting sweetly with balata.
Pages
Click here to see the published article.