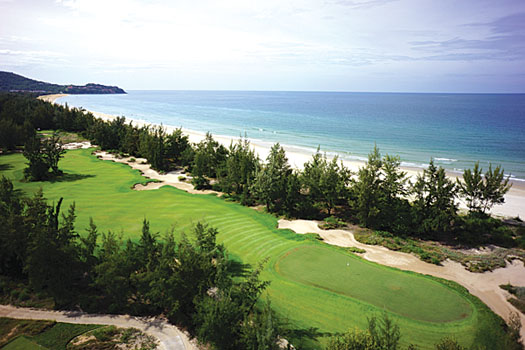 Many visitors say the par-71 course is not just the best new course in Asia, but one of the best overall. Its attraction is a unique setting, wedged between mountains and the sea with several different playing environments.
As part of the Banyan Tree Lang Co resort, which features Banyan Tree villas and an Angsana hotel, Laguna Lang Co is a true golf and holiday paradise. The Banyan Tree Group describes the development as the "first and largest fully-integrated world-class hospitality development in Vietnam".
The golf course's appeal is its variation. Starting in an open rice paddy environment, the routing moves through jungle, creek and oceanside settings before coming to sandy blowout areas along the final two holes.
Such variation is unusual in one location, as most golf courses feature similar playing environments throughout the round. Laguna Lang Co's variation not only stands it apart, but according to Sir Nick Faldo is one reason why it is so good.
"This is a stunning and very diverse piece of land with gently rolling terrain, splashes of sand throughout and an impressive array of natural design features," Sir Nick said when he first visited the site more than three years ago.
"For this part of Vietnam it's a real hidden gem. Players will plot their way through some very picturesque surroundings and it will have a real sense of place," he predicted.
Faldo and his lead designer, Paul Jansen, delivered on this promise in spades.
"I enjoyed incorporating the unique environments of the region in the design and strategy," he said after Laguna Lang Co was named last November as the best new course in Asia Pacific.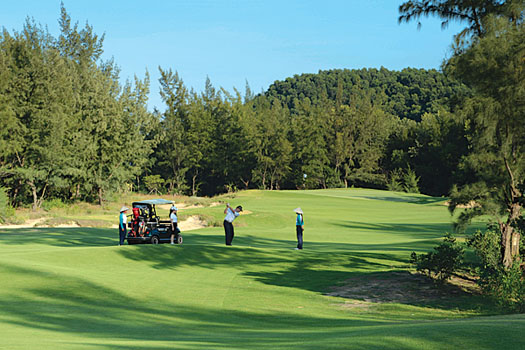 Pages
Click here to see the published article.