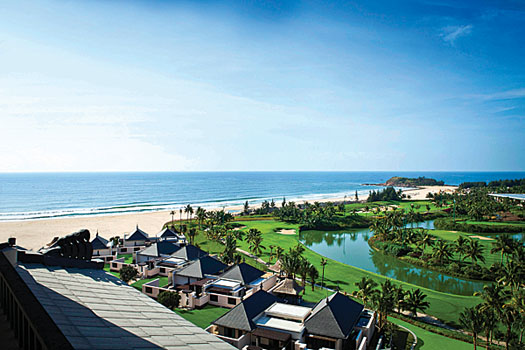 Such has been the rate of golf course construction in China in recent years that you're more likely to find the world's best golf course architects traipsing through the glades of Yunnan and the hills of Zhejiang than you are in the traditional golfing centres of the United States or Great Britain. Make no mistake: the Middle Kingdom has taken to the sport in a way not seen since the Japanese fell in love with the royal and ancient game in the 1970s.
Although there have been issues of late, with regional governments beginning to clamp down on course developers who may not have adhered entirely to the admittedly complicated zoning rules, there are few such problems Hainan, the undeniable golf capital of China. In just fifteen years, this tropical island province off the southern tip of Guangdong has been transformed from a rural backwater into a burgeoning tourism destination. Golf has been at the forefront of this development - indeed, it is actively encouraged - with nearly sixty courses now either completed or in the design phase. China's answer to Hawaii, with its luscious green landscapes and volcanic rock formations, is well and truly on the road to golfing mega-stardom.
Pages
Click here to see the published article.