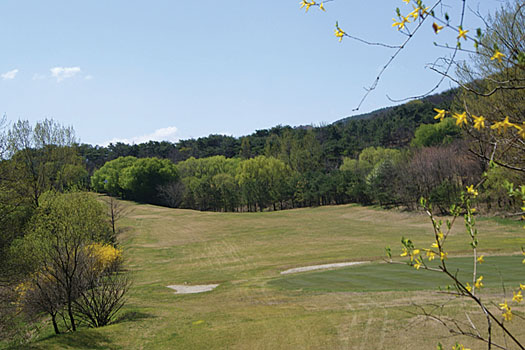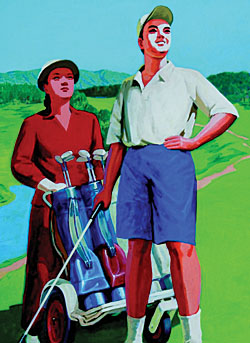 This new tournament is officially endorsed by Koryo Tours Ltd, which has been conducting organised visits to the country since the early 1990s, and will take place between 10-14 June.
The competition, which is open to players of all abilities, will be held at the picturesque Pyongyang Golf Course, situated 27km from the capital, and will incorporate two tournament rounds preceded by a day's practice. Whilst official statistics and results are hard to come by, the current course record, according to the well-travelled Mintjens, is a rather obtainable 84. The added potential bonus of breaking this record should entice many a golfer. Furthermore, since the drinks at the course's clubhouse are very inexpensive, even a hole-in-one won't put you out of pocket!
The clubhouse is also noted for being home to one of North Korea's best restaurants.
The tournament will comprise a maximum of 64 participants and Mintjens is expecting the field to include a number of local players for the first time.
Aside from the golf, the tour will also feature guided visits to some of the country's main sights, including the Mansudae Grand Monument and the Tower of the Juche Idea, as well as an overnight trip down to Kaesong and the Demilitarized Zone (DMZ), which marks the border with South Korea.
Participants will stay at the well-equipped Koryo Hotel, which is considered Pyongyang's best and is notable for being the hotel of choice of Dennis Rodman, who stayed there during his much publicised visits to North Korea in the past two years.
The five-day/four-night tour costs €1,645 (approximately HK$16,500) and includes DPRK visa, return flights from Beijing to Pyongyang on Air Koryo, all ground transportation, all meals, hotel accommodation, all the excursions outlined in the itinerary, and all the services of the guides and driver. For more details or to book your place, refer to Mintjens' website at visitdprk.weebly.com or visit www.koryotours.com
Click here to see the published article.