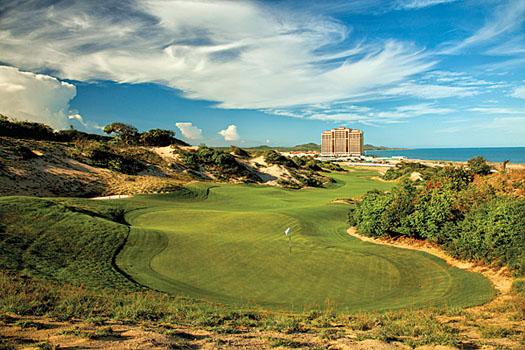 Asian Tour players are in for quite the treat when they tee it up at the Ho Tram Open in December. The reason? Allow me to explain. It's an ill-kept secret that professional tournaments aren't always played on the best courses. Save for the Hong Kong Golf Club (of course) and a few others, Asia's premier tour does visit some rather ordinary venues. I won't give examples, but I will say that in The Bluffs Ho Tram Strip, a rollicking Greg Norman design that overlooks the South China Sea to the southeast of Ho Chi Minh City, they have found a course that is truly worthy of testing the region's very best players. Geography aside, the course could host next month's US Open and earn plenty of plaudits. It's that good.
Unusually, it is the club that is investing the cash to make the tournament happen. There's no external sponsor, meaning the club itself will take control or proceedings - and this is a boon when you learn about the people involved. The Bluffs, which is part of a larger destination concern, The Grand Ho Tram Strip, which includes a five-star hotel and casino, is going to fund the US$1.5 million endevour itself – and they have promised to make it the most significant sporting event to have ever been staged in Vietnam.
It seems too good to be true, but it really isn't. The Asian Tour, which still to this day faces competition from the lingering OneAsia circuit, has found in The Bluffs a really first-class partner. Towards the end of last year there were rumblings within the player ranks that they weren't getting enough big-money tournaments to compete in. But things can change fast in this part of the world – and to their credit, the Tour has produced the goods. Co-sanctioned events with the PGA and European Tour included (which includes our own Hong Kong Open), there are going to be a minimum of eleven tournaments that boast a prize pot in excess of the million-dollar mark in the second half of the season. The Ho Tram Open, to be played from 3-6 December, will be the richest full-field event on the calendar. Rich pickings, indeed.
Pages
Click here to see the published article.