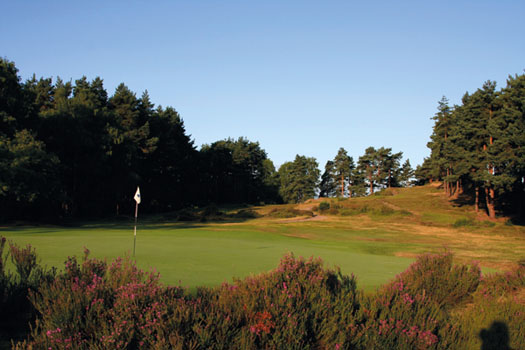 Around London
While Britain is rightly known throughout the world for its unbeatable line up of classic links courses, the counties of Surrey and Berkshire to the west of the nation's capital are home to some of the best examples of a different style of golf – heathland.
Characterized by free-draining sandy soil and framed by swathes of heather, in their early days these courses provided London golfers who didn't want to travel to the coast with places to play. Nowadays, these clubs are regarded as amongst the countries best, with lengthy membership waiting lists in place at the most revered.
Lined with pine, birch and oak trees, the Old Course at Sunningdale Golf Club is a Willie Park masterpiece, and is rightly considered one of the foremost examples of heathland courses in the world. It was here in 1926 when Bobby Jones compiled what was described at the time as the perfect round of golf during Open Championship qualifying. Jones, who would go on to win the Open at Royal Lytham & St Annes shortly after, went round the Old Course in 66 strokes – 33 out, 33 in – with 33 putts and with only threes and fours on the card. The club's New Course, which was designed by Harry Colt, a former secretary and captain at Sunningdale, is another majestic test, one that features Colt's imaginative bunkering and umpteen memorable holes.
Less than three miles down the road from Sunningdale lies the West Course at Wentworth Club, probably the most televised course in Britain thanks to its long-time association with the European Tour's PGA Championship and numerous other professional events. Another Colt design, the West is lined by magnificent ancient oaks and its wonderfully kept turf is a delight to hit off. An extensive renovation programme led by Ernie Els, a Wentworth member, took place in 2009, which drew criticism from some quarters but recent tweaking to soften some of the more severe features has recaptured the golfing public's imagination in what is undoubtedly a very fine layout indeed.
Other not-to-be-missed heathland courses in the region include Walton Heath, St George's Hill and Woking.
Contacts
Sunningdale Golf Club www.sunningdale-golfclub.co.uk
Wentworth Club www.wentworthclub.com
Walton Heath Golf Club www.waltonheath.com
St George's Hill Golf Club www.stgeorgeshillgolfclub.co.uk
Woking Golf Club www.wokinggolfclub.co.uk
Pages