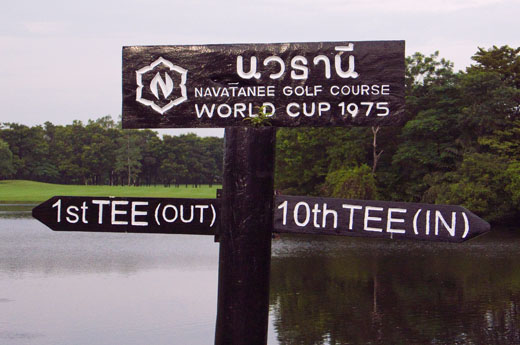 SERVICE
No complaints whatsoever. The staff was friendly, helpful and eager to please us mere visitors. No snotty indifference to our needs was noted.
VERDICT
So, how does Navatanee rank among Thailand's finest courses? Is it worthy of its perennial placing among the country's top-10, or has its standing slipped since the days when it was the only show in town? Well, it's a tricky one. It's clear that the club hangs on to its World Cup connection with something close to desperation—every logo, sign, banner, menu, beer mat, chopstick, souvenir towel and pitchmark repair tool boasts the words "World Cup 1975." There's nothing really wrong with that of course, but to some this branding might suggest a club stuck in the past, unwilling or unable to move on from its fifteen minutes of fame nearly thirty-five years ago. The Navatanee of 2008 is still a fine course, but one in need of a little surgery. A nip there, a tuck there—that's all it takes. We shall return.
 
Pages
Click here to see the published article.