European Renaissance
Over the past decade, Europe has thrived from a golf course architecture point of view, with a number of high quality layouts coming online. The well-travelled Andrew Marshall picks six of the best
Bro Hof Slott
Supersized Swede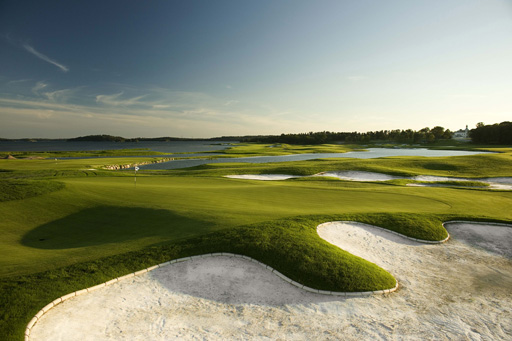 The Swedes love their golf – indeed, out of a population of just nine million, there are over 600,000 registered golfers. To put this in perspective, there are fewer regular golfers in China – population 1.3 billion – than there are in this Nordic land, which goes some way to explaining how the country has produced the likes of Annika Sorenstam, Robert Karlsson, Henrik Stenson et al.
Since the first golf club, Gothenburg, was founded in 1902, quickly followed two years later by Stockholm's Golf Klub, Sweden now has around five hundred courses with at least 50 of these within an hour's drive of the capital.
Travelling to the courses is all part of the Swedish golf experience and it doesn't take you long to leave the capital behind and enter the countryside, where traditional homes with their distinctive yellow, musk and red facades contrast vividly against the ubiquitous conifer and birch woodlands, farmland and rocky outcrops. The number one ranked course in the Stockholm area is Bro Hof Slott's Stadium Course – a state-of-the-art layout that opened in 2007. Built around the baroque-style Bro Hoff Castle – formerly owned by the Swedish royal family – the attention to detail is evident from the moment you enter the regal gates to the very last hole.
Said course designer Robert Trent Jones II: "Everything is big at Bro Hof! The holes are longer, the greens are bigger, the course has more water and the bunkers are larger and well placed. Besides which, the wind is always part of the game. On the dogleg holes you not only have to hit the balls a long way, you also have to get them to stop."
Bro Hof Slott is now the venue for the Scandinavian Masters and is also rumoured to be a hot favourite to host the Ryder Cup in 2022.
Contact: brohofslott.se
Written by Andrew Marshall
Click here to see the published article.