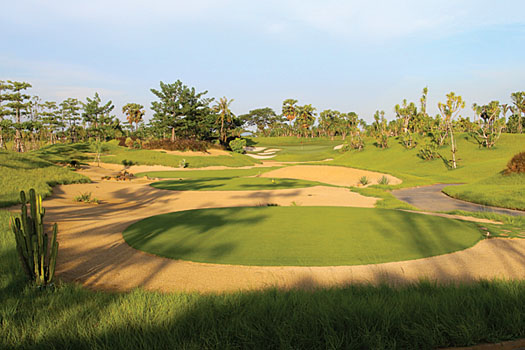 Guangdong province aside, Bangkok is the most popular destination for Hong Kong golfers. This really comes as no surprise: countless flights serve the Thai capital, reasonably-priced yet quality hotels abound and, above all, there are golf courses galore.
When one considers the best golfing experiences in and around this pulsating city of six million, it is hard to look past the likes of Alpine Golf and Sports Club, Rajpruek Golf Club and Thai Country Club. All three offer the required combination of strong design, excellent service and upscale off-course amenities. The only problem, however, is they're all private; getting on them without a member's introduction, is not especially straightforward.
Enter the brand-new Nikanti Golf Club. This 18-hole track, situated in Nakorn Pathom to the west of the city, dares to be different.
The work of charming Thai architect Piraporn Namatra of the Golf East design firm, Nikanti is the 291st course to open in the Land of Smiles and it surely ranks among the very best. Namatra, or Khun Ope as is he known, isn't afraid to think outside the box – his thought-provoking designs at Banyan in Hua Hin and Santiburi, that cliffhanger of a course on Koh Samui pay testament to that - and he has crafted something revolutionary at Nikanti, and in more ways than one.
Pages
Click here to see the published article.