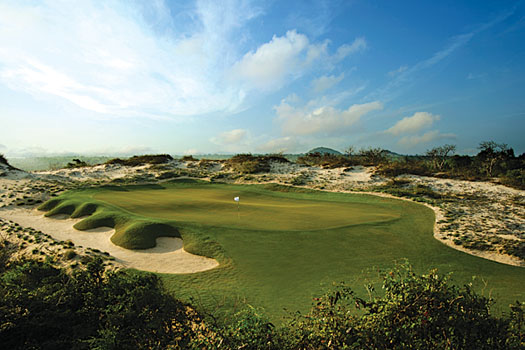 One of the most anticipated new courses in Asia called its first golfers to the tee last month, when The Bluffs, Ho Tram opened for preview play along Vietnam's south-central coast.
Designed by two-time major champion Greg Norman, who spent an astounding 331 consecutive weeks atop the world golf rankings, The Bluffs trades on geographical traits that are more akin to the classic links of the British Isles than tropical Southeast Asia.
"This is one of only two pieces of land of this quality and character that I have ever been given to work with, the other being Doonbeg in the south of Ireland," said Norman, who also conceived the award-winning (and HK Golfer favourite) Dunes Course at Danang Golf Club, on Vietnam's central coast.
Routed over and around towering seaside sand dunes 120km southeast of Ho Chi Minh City, The Bluffs is being billed as one of the few championship-calibre links courses with significant elevation changes, making for a golf experience as much a feast for the eyes as it is a challenge to tame.
While the highest point of the rugged, windswept property is 50m above sea level, on the 15th green, one of the most spectacular spots comes earlier in the round, on the fourth tee.
From there, players are presented with a 360-degree view - of the course, of the surrounding national forest that's a haven for wildlife, of the expansive shoreline and of the The Grand Ho Tram Strip, which opened in July 2013 as Vietnam's first international luxury casino resort.
Pages
Click here to see the published article.