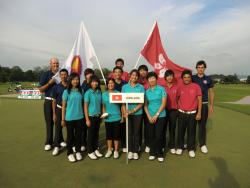 Played concurrently with the Southeast Asian Men's Amateur Team Championship (the Putra Cup), the under-18 Lion City Cup team, represented by Shinichi Mizuno, Anthony Tam, Terrence Ng and Liu Lok-tin, struggled to make any impact at the Royal Selangor Golf Club in Kuala Lumpur, finishing in sixth place of the seven teams taking part. The Phillipines won the event by four strokes from Thailand.
It was a similar story for the ladies team in the Santi Cup. Hong Kong's youthful side of Mimi Ho, Kitty Tam, Michelle Cheung and Isabella Leung put in an inconsistent display to end the event in sixth spot, some distance behind eventual victors Thailand.
A new-look Putra Cup side, led by the experienced Stuart Murray, also found it difficult to match their Southeast Asian counterparts. The team, which also included Winston Wu, Oliver Roberts and Marcus Lam, had to settle for seventh place. Thailand capped a fine week with victory in this event too.