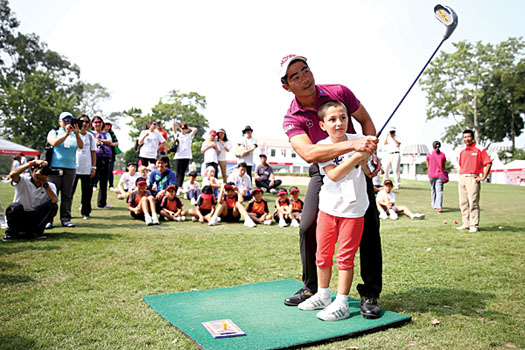 Professional golfers Robert-Jan Derksen and Liang Wen-chong took time out of their busy Hong Kong Open schedules on the Thursday of the tournament to help the Hong Kong Golf Association (HKGA) launch a new initiative that will take golf into primary schools across the territory for the first time.
The HKGA's 'Golf For Schools' programme will give children aged 6 to 12 the chance to try golf at school through a fun and unique training system called ShortGolf. For those children who are inspired by the ShortGolf experience, the HKGA is offering a pathway into the sport, starting with a series of coaching clinics at golf courses and driving ranges across Hong Kong.
HKGA President Ning Li said: "Golf For Schools is about introducing golf and the values and life-skills that it represents to those children who may otherwise never get the opportunity. The HKGA will provide a pathway into the sport that is affordable and accessible for children of all backgrounds and can potentially take them right through to representing Hong Kong at the highest level."
Dutchman Derksen and China's number one player Liang joined local primary school children for a ShortGolf challenge at the HKGA's Mini Golf Zone, a new Hong Kong Open initiative open to the public at the Hong Kong Golf Club in Fanling on all four tournament days.
Golf's governing body, The R&A plus Friends of Asia Hong Kong, the Official Tournament Charity of the Hong Kong Open have pledged their support to the Golf For Schools initiative. Primary schools and community centres from areas including Sheung Shui and Sai Kung are already in talks with the HKGA to deliver ShortGolf classes during the coming academic year.
Tom Phillips, Chief Executive Officer of the HKGA commented: "Golf For Schools only works if there is an affordable pathway into the sport with access to coaching and facilities. We have overwhelming support and co-operation from the HKGA's four constituent golf clubs - Hong Kong Golf Club, Clearwater Bay, Discovery Bay and Shek O - plus Kau Sai Chau, Nine Eagles and other golf facilities across Hong Kong."
Phillips added: "The support of our partners including Mercedes-Benz, EFG Bank and Descente Trading Limited is also crucial to Golf For Schools, as is backing from The R&A and Friends of Asia Hong Kong and co-operation from the Hong Kong Government and the HongKong PGA. In recent months we have seen Tuen Mun resident Tiffany Chan graduate from the HKGA's junior programme and win gold for her country in the World University Championship. We hope Golf For Schools will enable many more Hong Kong children to follow similar dreams."
Click here to see the published article.